May 12, 2015 | 3:10 PM
Five Takeaways from Cedar Rapids
There are a lot of great reasons to come to a Climate Reality Leadership Corps training – and if you're reading our emails or blog posts, you've heard a lot of them.
But here's the best one: the chance to experience the extraordinary energy that can only happen when you bring a lot of world-changers together in the same room.  Chances are you've had to endure the kind of event where everyone passively listens to speakers, passes out business cards at the break, and then takes what they've learned home like groceries in a (conference logo) bag to sit on a shelf.
Climate Reality Leadership Corps trainings work a little differently – and it's no surprise. Assemble hundreds of highly motivated activists, share powerful stories and tools from influencers and field leaders, and the effect is like watching a pool player break as energy and ideas connect and collide, starting a kind of kinetic chain reaction with action for climate solutions going in every direction.
With every training we hold, we watch this dynamic unfold and inevitably end up learning just as much as we'd hope to teach. Case in point: our 2015 training in Cedar Rapids, Iowa  with 337 new Leaders. And while it's hard to succinctly distill three days of nonstop presentations and conversations in a single post, here are the top five things we took away.
1. Millennials are getting involved and reshaping what climate action means today.

Millennials tend to get a bad rap these days and a quick survey of sentiments in the popular press will turn up everything from condescension to celebrations of unparalleled spirit and innovation. Judging by what we saw in Cedar Rapids, we're going with the latter.
For starters, at the same time many Hollywood stars seem committed to leaving their legacies in sky-high bar tabs, actor Calum Worthy  came to Iowa to learn how he could use his media profile to help protect the planet. 
Great to meet @CalumWorthy, @DisneyChannel star and now a @ClimateReality leader! #CRinIowa pic.twitter.com/Zo256CVWtC

— Al Gore (@algore) May 8, 2015
Then there was filmmaker Finn Harries, who's already raised hundreds of thousands for critical causes through the power of YouTube storytelling with his JacksGap project. Sitting alongside them were many activists who were barely into double-digit ages and who, while they'd have to wait years to get driver's licenses, weren't waiting to create the future they want.
I've spent the last three days learning about the work of @ClimateReality and its founder @algore. Feeling v.inspired pic.twitter.com/AJ7jzroXeu

— Finnegan Harries (@FinnHarries) May 7, 2015
2. The hunger for climate solutions is global. 

Cedar Rapids might not be the biggest host city we've had for a Climate Reality Leadership Corps training – or the easiest to get to – but that didn't stand in the way of activists traveling from as close as just down the street and as far as Lagos, Nigeria to get there. Each came for different reasons – whether it was seeing farms dry up firsthand or concern for the world their grandchildren would inherit – but each came to do something. The result was a truly global conversation on climate solutions with as many different accents as ideas for ways to move forward.
3. Iowa isn't waiting for Washington.

When it comes to climate solutions here in the US, we're used to hearing about major initiatives coming out of Washington, like the EPA's Clean Power Plan, or efforts from states like California to cap emissions. But outside of the media spotlight, forward-thinking farmers, entrepreneurs, and energy companies in Iowa are taking practical steps to reduce carbon pollution, cut resource use, and expand renewables without waiting to follow anyone else's lead. From developing climate-smart agriculture techniques that boost yields to growing a thriving wind energy sector that supplied over 28 percent of the state's electricity in 2014, Iowa is showing the rest of the nation how to turn the challenge of climate change into real opportunities for sustainable growth.
4. When it comes to extreme weather, we can't just plan to adapt.

Back in 2008, Cedar Rapids got a terrifying preview of what a future with more frequent extreme weather could look like as its downtown was inundated by a once-in-500-years flood that exceeded all expectations and cost the city as much as $40,000 per resident. Facilities along the Cedar River were designed to handle water up to 20 feet high, but heavy precipitation in the Midwest brought levels to over 31 feet, threatening the city's core infrastructure. As Mayor Ron Corbett said, "We were one sandbag away from losing our water system for our community."
"We were one sandbag away from losing our water system for our community."
The only conclusion: planning for extreme weather is critical, but even more so is action to help prevent such events from becoming regular facts of life.
5. Faith communities have a big role to play in the climate movement. 

Pope Francis has been making a lot of headlines recently for convening a summit of Catholic leaders, scientists, and UN officials to explore what climate change means particularly for the world's poor in advance of an anticipated encyclical on the issue this summer – and rightly so. But what was striking about the training was how many ministers, deacons, and other people of faith were there in the room and already speaking about action for solutions as a moral imperative in their congregations and communities. Hallelujah to that!
@ClimateReality "If we destroy creation, it will destroy us. Never forget this." Pope Francis #CRinIowa

— Kat Baumgartner (@katiabaumbaum) May 5, 2015
Become a Climate Reality Leader

Join us for an upcoming Climate Reality Leadership Corps training and work with former US Vice President Al Gore and renowned climate scientists and communicators to learn about what's happening to our planet and how you can use social media, powerful storytelling, and personal outreach to inspire audiences to take action. Give us three days. We'll give you the tools to change the world. Learn more.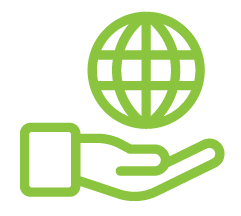 Before You Go
At Climate Reality, we work hard to create high-quality educational content like blogs, e-books, videos, and more to empower people all over the world to fight for climate solutions and stand together to drive the change we need. We are a nonprofit organization that believes there is hope in unity, and that together, we can build a safe, sustainable future.
But we can't do it without your help.
If you enjoyed what you've just read and would like to see more, please consider making a generous gift to support our ongoing work to fight climate denial and support solutions.