November 20, 2018 | 1:55 PM
Join Us in Atlanta
We've said before and we'll say it again: The fight for a clean energy future is a fight for a fair future.
After all, when it comes to the dirty fossil fuels poisoning our environment and changing our climate, we all suffer, but low-income families and communities of color get hit the hardest. It's just not fair or equitable, any way you look at it – and it's got to stop.
That's why we're heading to Atlanta, Georgia this March to hold the next Climate Reality Leadership Corps activist training. Applications are now open for this three-day event – and we want you to be there.
Join us in Atlanta and spend three days with former Vice President Al Gore and an all-star lineup of environmental justice leaders, faith voices, business visionaries, and other experts. Through wide-ranging workshops, panel discussions, networking events and more, you'll:
Learn how the climate crisis is transforming the Southeast US.
Hear how fossil fuel pollution and climate impacts like heatwaves threaten low-income families and communities of color.
See how shifting to clean energy can solve this crisis, create jobs, and lead to a healthy and fair future for all.
Develop the know-how and network to lead your community in working for practical and affordable clean energy solutions.
Learn how to build broad, inclusive, and powerful coalitions to lead on critical climate and social justice issues.
As a hub of the American civil rights movement, Atlanta has long been synonymous with transformative change. With the Atlanta Training, we aim to together write the next chapter in this proud tradition and empower a new generation of activists driving change across the Southeast and beyond.
Who should apply to join us in Atlanta?
Community activists working for a just economy for all.
Business leaders looking to inspire change in their industries.
People of faith embracing stewardship and compassion.
Parents concerned about fossil fuels harming their family's health.
Young people ready to build a fair and inclusive clean energy future.
Anyone who is interested in learning more about the intersection between the climate crisis and social justice – and how to be part of the solution.
Apply now for our next training and join a network of nearly 17,000 activists from over 140 countries leading the fight for a fair, clean energy future.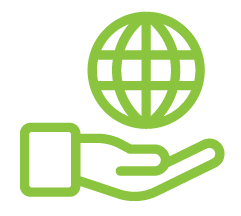 Before You Go
At Climate Reality, we work hard to create high-quality educational content like blogs, e-books, videos, and more to empower people all over the world to fight for climate solutions and stand together to drive the change we need. We are a nonprofit organization that believes there is hope in unity, and that together, we can build a safe, sustainable future.
But we can't do it without your help.
If you enjoyed what you've just read and would like to see more, please consider making a generous gift to support our ongoing work to fight climate denial and support solutions.