June 23, 2017 | 9:50 AM
Lead By Example: Five Ways to Green Your Event
Tradeshows, parties, conventions, galas, corporate meetings, birthday parties, sporting events… chances are you've been to at least one large gathering like these. They bring together people from different areas and backgrounds to celebrate a common passion. At Climate Reality, we look at all events as opportunities to serve yet another purpose: educating and engaging people about small steps that they can personally take to help make a more sustainable world.
When preparing for Climate Reality Leadership Corps trainings, sustainability is always top-of-mind for our planning team (see our blog posts about our event sustainability strategy, green venue selection process, and green team). A central aspect of our sustainable event management plan is communicating to everyone involved how they have equally important roles in creating as low-impact an event as possible – and that includes attendees.
Ahead of our upcoming Climate Reality Leadership Corps training in Seattle, we asked ourselves, "Why only share this information with our participants? Couldn't everyone benefit from a quick guide about how to be a green event attendee?"
So, we've put together a few of our favorite tips to help you make sustainable choices when attending your next event.
1. THINK BEFORE YOU THROW

Eco Stations (consisting of compost, recycling, and landfill bins) are located throughout all of our training venues – they will be in every main area of the Meydenbauer Center for our upcoming event in Greater Seattle.
While compost and recycling capabilities can vary depending on the location, here are general rules to follow when determining what to toss where:
Compost
Food
Liquid
Wet Paper
Compostable Flatware
Recycling
Plastic
Aluminum Cans
Paper
Glass Bottles
Cardboard
Landfill
Plastic Utensils
Chip Bags
Plastic Wrappers
Styrofoam
Straws
2. HYDRATE RESPONSIBLY

Combating climate change is hard work! That's why we make sure to keep our Climate Reality Leaders well hydrated and caffeinated during trainings by providing water and coffee stations throughout our venues.
When attending any event, remember to bring your reusable water bottle and coffee mug to refill at these stations! While we offer beverages in bulk vs. single-use disposable bottles all our trainings, re-filling your own bottles and mugs can save resources at any event you attend.
3. TRAVEL LIKE A PRO

Use an event as your opportunity to get to know the host city better – even if it's your hometown! Whenever possible, get around town by walking, biking, or using public transit options. Not only will you reduce your carbon footprint, but you'll also get to see areas and meet people you'd miss by riding in a taxi or driving in a car.
4. GO GREEN IN YOUR HOME-AWAY-FROM-HOME

Staying in hotels can disrupt your normal routine, but don't let that be an excuse to abandon your green habits. Just as you would at home, don't forget to turn off all lights and electronics when you leave your hotel room each day.
Also, be sure to ask your hotel about any green programs they have in place. Chances are they'll have towel and sheet reuse initiatives, green cleaning options, or other sustainability programs guests can participate in. In addition to helping reduce your environmental footprint, participating in these initiatives often earns you rewards from the hotel – a win-win!
5. BE AN INSPIRATION

Inspire others to join the fun as a green event attendee! Post about your sustainable actions with #greenevent and #LeadOnClimate tags.
SEE THESE PRACTICES IN ACTION

To learn more about how you can join a sustainable Climate Reality Leadership Corps event, visit our upcoming trainings page.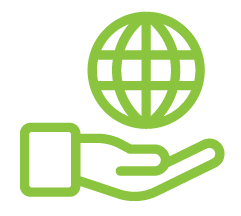 Before You Go
At Climate Reality, we work hard to create high-quality educational content like blogs, e-books, videos, and more to empower people all over the world to fight for climate solutions and stand together to drive the change we need. We are a nonprofit organization that believes there is hope in unity, and that together, we can build a safe, sustainable future.
But we can't do it without your help.
If you enjoyed what you've just read and would like to see more, please consider making a generous gift to support our ongoing work to fight climate denial and support solutions.