July 09, 2015 | 6:00 AM
Location, Location, Location: Why Your Green Event Venue Matters
Would you ever plan a child's birthday party at a dentist's office? A wedding at a sewage treatment plant? How about a corporate conference at a Chuck-E-Cheese?
Didn't think so.
Choosing the right venue is one of the most important tasks for any event planner. That's why when we plan events for our Climate Reality Leaders (or, really, any event), we make sure to pick a venue that fits our audience and our values. While our venues must provide the right atmosphere for our meetings, they must also meet our sustainability standards.
But how do you pick a green venue? You know – one that both talks the talk and walks the (sustainable) walk. To sift through the contenders, we look for three main characteristics of a venue: green certifications, waste diversion initiatives, and sustainable sourcing commitments.
Want to see this process in action? We'll walk you through how we picked The International Centre as the venue for our Climate Reality Leader training in Toronto, Canada.
Certification

Before booking a venue, check out its resume! Anyone can make big claims about sustainability, but just as you would for any potential hire, look for accolades that back up what they say.
When looking for a venue for our Climate Reality Leadership Corps Canada event, The International Centre stood out (in part) because of the many sustainability certifications and awards it's received. Here are a few of them:
Level One ASTM Standard relating to the evaluation and selection of venues for environmentally sustainable meetings, events, trade shows, and conferences
Four Green Keys for accomplishments in environmental management and corporate social responsibility from Green Key Meetings
2015 Give Back Award  from the Canadian Association of Exposition Management for ongoing commitment and enhancement of the surrounding community
2011 Leadership in Sustainability for the Hospitality Sector from Partners in Project Green
2011 Award of Excellence from VQA Ontario, the province's wine authority, for a wine list comprised exclusively of Ontario brands
2011 Champion of Education and Training Award from the Canadian Association of Foodservice Professionals, for the continuous support of employee education
Now if you're not in the events industry, these names may not be immediately familiar, but either way the takeaway is simple and clear: the industry says The International Centre is walking the walk.
Waste Diversion

No matter how hard we try to reduce waste at our events, there's no way around it – there is going to be a lot of stuff left over after a meeting. Just because there is excess material, though, doesn't mean that it all has to end up in a landfill. To make sure this doesn't happen, we ensure that every venue we work with has a waste diversion system in place to recycle and compost as much leftover stuff as possible.
The International Centre impressed us both with its waste reduction and waste repurposing measures. To decrease the amount of stuff thrown out, the Centre provides more durable, reusable versions of items that often only get used once, like glasses at water stations and linen napkins. The venue also uses and facilitates electronic signage, which helps cut down on printed handouts.
Along with these efforts on material selection and use, the Centre also has a comprehensive waste diversion system to deal with the unavoidable leftovers that accumulates at events. By separating compostable, recyclable, and landfill waste, the system minimizes the trash heading to local dumps. Plus, the system encourages attendees to get involved by recycling and composting their leftovers themselves. If you're joining us in Toronto, you'll notice three-bin stations set up throughout the meeting space with clear signage to help answer questions about what goes where.
Sourcing

This is the step that many venues overlook. Sustainable sourcing, or buying products and food from local and environmentally conscious producers, has a huge impact on an event's carbon footprint. Researching and buying environmentally friendly water bottles, gift bags, meals, snacks, and more takes a lot of time and dedication. But, doing this the right way means ensuring that an event is truly as low-impact as possible.
One of the many reasons we love The International Centre is because it takes sustainable sourcing seriously. The Centre's chefs work closely with local farmers to serve fresh, local, sustainably grown, and (most importantly) delicious vegetarian and vegan food for event attendees. Venue managers also work actively with event planners to help them find locally produced event supplies like printers, water bottles, and gift bags.
It's your turn.

So there you have it – a quick guide to how we choose venues that operate sustainably and set the right tone for an event like a Climate Reality Leader training. Of course, that's not all that goes into it (detailing that would take all day), but hopefully this gives you a sense of where to start when choosing a venue for your own green event.
Join us for an upcoming Climate Reality Leadership Corps training and work with former US Vice President Al Gore and renowned climate scientists and communicators to learn about what's happening to our planet and how you can use social media, powerful storytelling, and personal outreach to inspire audiences to take action. Give us three days. We'll give you the tools to change the world. Learn more.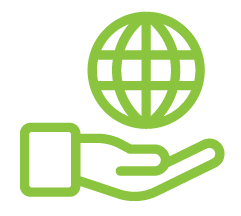 Before You Go
At Climate Reality, we work hard to create high-quality educational content like blogs, e-books, videos, and more to empower people all over the world to fight for climate solutions and stand together to drive the change we need. We are a nonprofit organization that believes there is hope in unity, and that together, we can build a safe, sustainable future.
But we can't do it without your help.
If you enjoyed what you've just read and would like to see more, please consider making a generous gift to support our ongoing work to fight climate denial and support solutions.