March 23, 2017 | 12:56 PM
Making Transportation Cleaner: Three Cities with Drive
Did you know that evidence suggests the wheel was first invented to create pottery in 3500 BC? And researchers believe it wasn't until about three centuries later that humans thought to use wheels to make chariots? Fast forward to the twenty-first century, and it's clear we've made a lot of changes to our transportation systems since then. But we're not done finding better ways to move around. These three cities are making big improvements – making transportation better for all of us and for our planet. 
Republished from the Cities100 guide (the work of Sustainia, C40 Cities, and Realdania) with permission.
Transport Policy Curbs Air Pollution

Paris is in­sti­tut­ing a suite of ini­ti­at­ives to com­bat air pol­lu­tion and pro­mote mo­bil­ity, with a fo­cus on elim­in­at­ing diesel vehicles and pro­mot­ing bike- and car-shar­ing ser­vices.
Par­is' am­bi­tious mix of pub­lic policy ini­ti­at­ives and in­vest­ment in al­tern­at­ive modes of mo­bil­ity is tack­ling the city's air qual­ity prob­lems. Spe­cific meas­ures in­clude im­prov­ing the ped­es­trian net­work, pro­mot­ing the use of elec­tric vehicles, and ban­ning the use of pol­lut­ing diesel vehicles by 2020. By gradu­ally im­ple­ment­ing these policies over the com­ing years, Paris hopes to achieve its ul­ti­mate goal of re­du­cing trans­port­a­tion emis­sions by 60 percent by 2020.
Other key meas­ures of Par­is' plan to com­bat traffic-re­lated air pol­lu­tion are im­prove­ments to the city's flag­ship self-ser­vice bike- and elec­tric car-shar­ing pro­grams, Velib' and Autolib'. To sup­port these ser­vices, Paris ad­ded 1,279 bi­cycle park­ing spots in 2014 and will in­stall 1,400 km of cycle lanes by 2020, with the goal of in­creas­ing the share of trips made by bikes to 15 percent by that year. In ad­di­tion, cit­izens who give up their car can re­ceive fin­an­cial help to sub­scribe to Velib' or Autolib' or to Nav­igo, the city-wide pub­lic trans­port pass.
The Result: 48.6 million km (more than 30 million miles) were traveled using Autolib's silent, zero emission cars in 2015.
World's Fastest Electric Taxi Fleet Overhaul

Taiy­uan, the largest city in North­ern Chin­a's Shanxi province, is one of the first cit­ies in the world to re­place its en­tire taxi fleet with elec­tric vehicles.
Since Janu­ary 2016, Taiy­uan has un­der­taken one of the world's most ex­tens­ive elec­tric vehicle over­haul pro­jects. In just eight months, the city re­placed all of its 8,292 taxis with elec­tric vehicles, mak­ing it the fast­est city to have re­placed its en­tire taxi fleet with elec­tric vehicles. The taxis cur­rently rely on more than 2,000 units of 40-kW high-power char­ging out­lets, and the city will also in­stall 18 towers cap­able of provid­ing power to 7,200 taxis sim­ul­tan­eously. By June 2016, 8,000 tons of CO2 emis­sions were saved thanks to the fleet.
Ac­cord­ing to na­tional reg­u­la­tions, the city's con­ven­tional taxis have to be re­placed with new vehicles in the years 2015 and 2016. Taiy­uan took ad­vant­age of the dead­line to usher in the new elec­tric vehicle fleet. By re­pla­cing the in­ternal com­bus­tion taxis for their elec­tric coun­ter­parts, the city will sig­ni­fic­antly im­prove air qual­ity; the mu­ni­cip­al­ity es­tim­ates re­duc­tions of 21,176 tons of CO, 2,451 tons of HC, and 3,478 tons of NOx per year.
The Result: 222,000 tons of CO2 will be reduced per year due to the taxi replacement scheme.
>> Related: Pledge your support for strong vehicle emissions standards in the US <<
Getting Ready for Mass Electrification of Transport

City: Seattle, Washington (United States)
Seattle has a vis­ion to trans­form how its trans­port­a­tion sys­tems are fueled and is pre­par­ing to over­haul all city-owned trans­port fleets with elec­tric vehicles.
In or­der to help reach its am­bi­tious goal of elim­in­at­ing green­house gas emis­sions at­trib­ut­able to trans­port by 2050, Seattle is spur­ring the mass elec­tri­fic­a­tion of many modes of trans­port, in­clud­ing pas­sen­ger cars, trucks, transit, off-road vehicles, and mari­time trans­port­a­tion through its Drive Clean Ini­ti­at­ive. The meas­ure in­cludes a plan to re­duce green­house gas emis­sions from the city's mu­ni­cipal fleet through sig­ni­fic­ant in­vest­ment in en­ergy-ef­fi­cient vehicles and cleaner fuels and de­ploy­ment of 15,000 elec­tric vehicles by 2025.
The ini­ti­at­ive in­cludes not only the mu­ni­cipal fleet elec­tri­fic­a­tion strategy but also in­fra­struc­ture in­vest­ment by Seattle City Light, op­por­tun­it­ies for pub­lic-private part­ner­ships, and use of reg­u­la­tions to ac­cel­er­ate the pro­cess. The city's com­mit­ment to low-car­bon trans­port­a­tion modes has already at­trac­ted in­vest­ments, as BMW re­lo­cated the North Amer­ican headquar­ters of its car­shar­ing ser­vice – Reach­Now – to Seattle.
The Result: 50 percent reduction in the municipal fleet's greenhouse gas emissions by 2025.
These aren't the only three cities making a difference for the future of our planet. Learn more about cities taking action to fight the climate crisis. Download the Cities100 guide now. 
The Cities100 guide is the work of Sustainia, C40 Cities, and Realdania.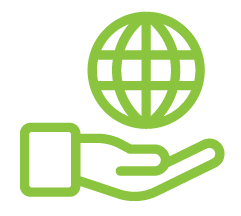 Before You Go
At Climate Reality, we work hard to create high-quality educational content like blogs, e-books, videos, and more to empower people all over the world to fight for climate solutions and stand together to drive the change we need. We are a nonprofit organization that believes there is hope in unity, and that together, we can build a safe, sustainable future.
But we can't do it without your help.
If you enjoyed what you've just read and would like to see more, please consider making a generous gift to support our ongoing work to fight climate denial and support solutions.