December 12, 2011 | 9:20 AM
Meet a Climate Scientist: Brian Helmuth
This is the second in an occasional series about the scientists who work with The Climate Reality Project. You can read the first post here.
Today's featured climate scientist is Brian Helmuth, who took part in the panel discussions during our Canberra, Seoul and Beijing events during 24 Hours of Reality. He is the Director of the Environment and Sustainability Program at the University of South Carolina in Columbia.
In his research, Dr. Helmuth explores the impacts of climate change on marine life. He also works with K-12 teachers to develop educational materials about science.
Brian recently sat down to answer a few questions for us. A few excerpts:
How is climate change affecting marine organisms?
I think it is worth mentioning that I never set out to be a "climate scientist." I started studying coral reefs as an undergraduate. In 1998, I returned to a site that I had been working at in Belize, after an anomalous warming event. It was truly devastating. What was once beautiful coral had turned into oozing algae. Since that time I've seen other organisms impacted in similar ways -- mussel beds with mussels literally cooked in their shells, for example.
I think some of the most interesting organisms that are being affected are often the ones that no one has ever heard of, however. There are creatures called pteropods in the Southern Ocean that truly look like little alien creatures.
How can we do a better job teaching students about climate change, or science in general?
I've tried to include at least one K-12 teacher in every research project that I've undertaken, and this summer we took four elementary school teachers with our team
to Oregon. They were fantastic, and it is always a collaborative experience -- we expose them to the scientific research process and they teach my students and me how to step back and see the bigger picture.
How we can engage students in science is really the heart of all of this. I think the best thing we can do is to help students see the impacts of climate change with their own eyes. That isn't always easy. There is a concept of "shifting baselines" where our concept of what is "normal" is always changing. There are almost no glaciers left in Glacier National Park, for example, but that would seem normal to a child unless they were able to see what the park looked like 50 years ago. To do that, we need to help kids reconnect with nature, to help them gets their hands dirty, and to help them see how "data" relate to what we see in the real world.
What do you think young people can do about climate change?
Personal actions cumulatively can make a difference, and small things like reducing the amount we drive can make a huge difference. One of the biggest things that they can do is to become politically active. We need leadership, not just at the national level, but probably even more importantly, at the local level. Talking to people about climate change can help. There are deniers who will never change their minds no matter what they see or hear, but the majority of Americans are still trying to decide what the believe about climate change. Finally, we need young people to devote their creative energies to coming up with solutions.
Anything else you'd like to add?
Earlier this year, I became Director of the Environment and Sustainability Program at the University of South Carolina. It involves faculty from nine different colleges and schools in fields as diverse as law, public health, social science, physical science, humanities, business and tourism. Most of what I do is finding ways of finding common ground between these different faculty, thinking about collaborative projects from all of these viewpoints.
I really think this is how we're going to have to approach climate change -- it is going to take ideas and energy from as many different backgrounds, experiences and cultures as we can. I honestly do think that this is what Americans are good at -- we certainly have been in the past -- if we can somehow find a way to unite and see the reality of climate change.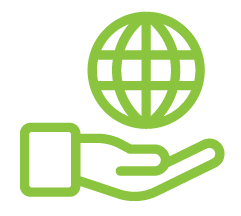 Before You Go
At Climate Reality, we work hard to create high-quality educational content like blogs, e-books, videos, and more to empower people all over the world to fight for climate solutions and stand together to drive the change we need. We are a nonprofit organization that believes there is hope in unity, and that together, we can build a safe, sustainable future.
But we can't do it without your help.
If you enjoyed what you've just read and would like to see more, please consider making a generous gift to support our ongoing work to fight climate denial and support solutions.