November 08, 2011 | 9:43 AM
Meet a Climate Scientist: Eugene Cordero
Source: Eugene Cordero
During 24 Hours of Reality, we were fortunate to work with many accomplished scientists who helped us tell the truth about climate change. One of these scientists was Eugene Cordero, who took part in our panel discussions during the Alaska, India and Pakistan events.
A scientist who works on climate modeling at San Jose State University, Eugene is passionate about what he calls "science that matters to society." So he goes beyond the classroom and lab to find ways to explain climate change to a larger segment of the public.
He's found quite a lot of creative ways to do this. One of them is to co-author a book with Laura Stec, a Bay-Area chef, called Cool Cuisine: Taking the Bite Out of Global Warming. This book explains the connections between climate change and the food system, with nifty tips on how to reduce your carbon footprint in the kitchen. (My favorite: Replacing beef stock with chocolate stout.)
As Eugene explained to me, there's a strong link between carbon pollution and the food we eat. "Our analysis says it's just as important as driving," he says. In fact, he put together a chart showing that a beef-heavy diet produces nearly as much carbon pollution in a year as driving a Ford F-series truck. On the other hand, a diet based on vegetables and poultry creates far less annual carbon pollution than driving a Toyota Prius.
"Reducing your meat consumption is probably a first step," he says. "You do need to spend time learning how to cook them to make sure vegetables taste as good as a meat-based diet."
Another big project he's working on is known as the Green Ninja. That's a cartoon character featured in a series of online videos about how to fight global warming. You can watch the episodes here -- such as one where a sleeping man's feet grow to a gigantic size because of his carbon footprint.
"He is a climate action superhero," Eugene says. "Our ultimate goal in this is to produce a nationally recognized icon for action on climate change." He's also thinking about future projects, such as a phone-based application to encourage people to take action.
These days, it's great to have a climate superhero on our side. We'd like to thank Dr. Cordero for taking part in 24 Hours of Reality, and we're proud to him as an ally in the movement to solve the climate crisis.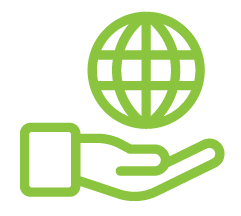 Before You Go
At Climate Reality, we work hard to create high-quality educational content like blogs, e-books, videos, and more to empower people all over the world to fight for climate solutions and stand together to drive the change we need. We are a nonprofit organization that believes there is hope in unity, and that together, we can build a safe, sustainable future.
But we can't do it without your help.
If you enjoyed what you've just read and would like to see more, please consider making a generous gift to support our ongoing work to fight climate denial and support solutions.