March 05, 2014 | 2:31 PM
Meet Our Newest Additions
Change doesn't happen by accident.
Should've. Would've. Could've. They might be the worst words in the English language. Because we've all wanted to stand up and save the world ourselves. To solve climate disruption. To end hunger. To protect the people, places, and things we love most. Most of us feel we should've made it more of a priority and would've too, if we had more time. We could've done it if our days weren't already disappearing taking care of the realities and responsibilities of everyday life. Meanwhile, the days keep disappearing but the issue doesn't.
We're proud of our Climate Reality Leaders for a lot of reasons, but most of all because they just don't have "Should've. Would've. Could've" in their vocabulary. And it makes people wonder. What does it take to cross that line between caring and acting? What kind of person decides they're going to be the one to do something about the climate crisis.
The truth is, chances are they're a lot like you and the people you know. They just decided for themselves that change doesn't happen by accident and they wanted to make it happen.
Chinelo Onwualu is the CEO of Sylvia Fairchild Editorial Services in Abuja, Nigeria. As a feminist and gender advocate, she's long been focused on the impact of climate disruption on women in her home country. Driven by this concern and drawing on her background as a writer, she's now working with a team at the Shehu Musa Yar'Adua Centre to tell the complex story of what climate change means for Nigeria in an accessible documentary film. Becoming a Climate Reality Leader is the next step in Chinelo's journey, and you can follow her during the Africa training on Twitter.
Johannesburg's Crosby Menzies has been an environmental justice advocate since he was just 13 and some part of him never lost his youthful imagination and commitment to taking on the impossible. While studying permaculture, he saw how much of Africa cooks with firewood, accelerating deforestation and contributing to a host of human, environmental, and economic issues around the continent. But after seeing rural students cook with shiny plates reflecting the sun, he realized that the answer to these—and other issues—was right above.
The result was SunFire Solutions, which he founded in 2004 to provide high-quality solar technologies to millions of Africans living without access to electricity. SunFire has grown to become the longest-running and most successful company offering solar cookers in Southern Africa. The company also offers a range of accessible and practical solar products, from lanterns to cell-phone chargers to fans designed to enhance the lives of communities living off the power grid without the consequences of carbon-fueled technologies. You can follow Crosby on Twitter during the training to hear more about his experience.
Chulwon Jed Lee is a digital marketing specialist for fast fashion and casual apparel brands in Seoul, South Korea. As the co-founder of an advertising agency and a digital marketing strategy consultant for LG, Chulwon approaches brand communication from an audience-centered perspective, helping companies understand who their customers are and what they need in order to make their message connect.
It's an approach that informs much of his practice as an artist. Chulwon combines traditional pointillist techniques with modern memes and mixed media to create works of art that speak to contemporary audiences about climate disruption in a language that's both striking and accessible. Along with his work as a solo artist, Chulwon also serves as the South Korean representative for Planetary Collective, a group of filmmakers, visual media creative, and thinkers who work with cosmologists, ecologists, and philosophers to explore big questions facing our planet. With Planetary Collective, Chulwon helps organize popular film screenings on climate issues in Seoul. Click here to follow Chulwon on Twitter.
Snowden Bishop, from Arizona, United States, has been telling stories across media channels for over 25 years. In 2009, she put this experience to work and reinvented her company, BEAM, to advance media for a sustainable world. With this mission, she's served as editor-in-chief and co-publisher of AZGreen Magazine, Sustainability in Education, and Friends of Africa Magazine, among others, and is now working on several new publications to promote awareness of climate and sustainability issues. Snowden's work has earned her induction into the Society of Environmental Journalists and she continues to devote her time and energy to numerous grassroots wildlife and environmental advocacy nonprofits and causes. Her next step is to become a Climate Reality Leader to fight corporate big polluters.
Chinelo, Crosby, Chulwon, and Snowden are only four of the incredible individuals who've decided that solving climate disruption starts with them and are heading to South Africa to learn how. We'll be following them throughout the training to hear more about their experience. This isn't the last you'll hear of these amazing folks.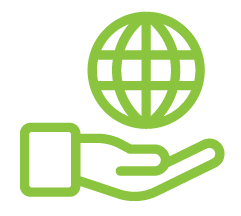 Before You Go
At Climate Reality, we work hard to create high-quality educational content like blogs, e-books, videos, and more to empower people all over the world to fight for climate solutions and stand together to drive the change we need. We are a nonprofit organization that believes there is hope in unity, and that together, we can build a safe, sustainable future.
But we can't do it without your help.
If you enjoyed what you've just read and would like to see more, please consider making a generous gift to support our ongoing work to fight climate denial and support solutions.