August 25, 2011 | 2:28 PM
Meet the Presenter: Asif Iqbal
With 24 Hours of Reality rapidly approaching, it's time you got to know the people who will give the presentations on September 14-15. These Presenters are regular men and women who live with the impacts of climate change every day and are ready to share their stories with the world. Today's featured Presenter is Asif Iqbal, who will be leading the event in Pakistan.
Growing up in Pakistan, Asif Iqbal was a witness to the deterioration of his homeland due to environmental degradation and a warming climate. He grew up in a remote, mountainous part of the country, and now returns to villages in that region to educate people about climate change. His region, once lush and mountainous, is being rapidly stripped of trees and is facing increases in temperature, flash floods and landslides. Asif is a development professional in Pakistan who works to design advocacy and development projects at a national level. After being trained by Al Gore in July 2009, he started organizing communities and volunteers in Pakistan to work with youth groups and civil society.
Asif recently sat down to answer a few questions for us.
What's your favorite place in nature to visit?
Well it will be kind of formal that I say I like my whole country to visit, but I really like the northern parts of Pakistan. Lush green areas on heights, beautiful snowbound mountains, forests, streams, rivers … It really is like a true heaven. I am lucky that I live here.
What is your favorite activity to do outside?
I love photography of nature. I keep collection of my best photographs and feel a different kind of satisfaction when I capture our green mountains, rivers, clouds and heights.
What sort of extreme weather have you seen in your hometown?
Despite all natural beauties of my hometown, unfortunately we are prone to disasters like flash floods, landslides and earthquakes. We experienced flooding back in 1992 and a disastrous earthquake in 2005. The massive flooding last year didn't affect my hometown much but [much of the country was] underwater.
You take time out of your busy life to give these presentations. What is your motivation?
Whenever I think the natural beauty of my homeland is at risk, I feel concern. Since my childhood, I have observed changes in my own area: warming temperature, changing rain patterns, and drying up water sources. Now realizing the reality of climate change, I feel it [is] my moral responsibility to do whatever I can, even a little thing, to protect the beauty of my homeland, to educate people, to reach influencers and to motivate others for action.
What is your favorite book?
I love The Alchemist by Paulo Coelho.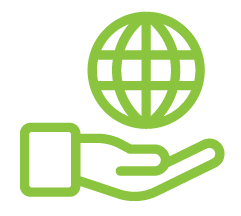 Before You Go
At Climate Reality, we work hard to create high-quality educational content like blogs, e-books, videos, and more to empower people all over the world to fight for climate solutions and stand together to drive the change we need. We are a nonprofit organization that believes there is hope in unity, and that together, we can build a safe, sustainable future.
But we can't do it without your help.
If you enjoyed what you've just read and would like to see more, please consider making a generous gift to support our ongoing work to fight climate denial and support solutions.