August 26, 2011 | 1:21 PM
Meet the Presenter: Carl Duivenvoorden
With 24 Hours of Reality rapidly approaching, it's time you got to know the people who will give the presentations on September 14-15. These Presenters are regular men and women who live with the impacts of climate change every day and are ready to share their stories with the world. Today's featured Presenter is Carl Duivenvoorden, who will be leading the event in Ilulissat, Greenland.
Carl Duivenvoorden is a man of the land. Raised on a dairy farm in Belledune, New Brunswick, he attended the Nova Scotia Agricultural College in Truro, Nova Scotia. His diverse career in agriculture took him to over 25 countries, from New Zealand to Vietnam to Brazil. Carl works as a speaker, writer and environmental consultant. His newspaper column, Green Ideas, is featured regularly in the New Brunswick Telegraph-Journal and three New Brunswick weeklies, and his writings appear periodically in newspapers across the country.
Carl recently sat down to answer a few questions for us.
What's your favorite place in nature to visit?
A wonderful bit of wilderness that my wife and I own here in New Brunswick. It's a 30-acre chunk, nestled between two pristine lakes, neither of which have any cottages. The only thing you can hear are loon calls! We camp there whenever we can to relax and recharge.
What is your favorite activity to do outside?
I love canoeing and kayaking into the wilderness: finding some new bit of still water, and exploring. I've surprised beavers, muskrats, otters, deer and even a moose that way. I also enjoy soccer with my pals in the Fredericton Old Boys league.
You take time out of your busy life to give these presentations. What is your motivation?
I've dedicated myself to helping build awareness of climate change because I think we owe that to our kids. I have two sons, and I'm driven by my concern over the type of world they will inherit. To me, this is not about "beliefs"; it's about science, logic, and the moral obligation of any generation toward the well-being of its descendents.
Tell us about the best presentation you've ever given.
The most memorable presentation I've ever given was in Fundy National Park here in New Brunswick. It was a glorious summer evening, and I was speaking at the park's open-air amphitheatre. Soon after the start of my talk, it got dark and the stars came out — the best special effects I've ever been a part of. The audience was wonderful; they stayed with me all the way and asked great questions.
What is your favorite movie?
My favorite movie is The Lion King, because of its message that even if you've messed up, it's never too late for redemption.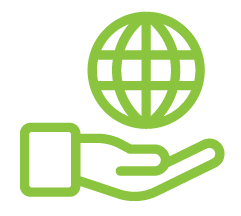 Before You Go
At Climate Reality, we work hard to create high-quality educational content like blogs, e-books, videos, and more to empower people all over the world to fight for climate solutions and stand together to drive the change we need. We are a nonprofit organization that believes there is hope in unity, and that together, we can build a safe, sustainable future.
But we can't do it without your help.
If you enjoyed what you've just read and would like to see more, please consider making a generous gift to support our ongoing work to fight climate denial and support solutions.