August 16, 2011 | 12:57 PM
Meet the Presenter: Charles Wiriawan
With 24 Hours of Reality quickly approaching, it's time you got to know the people who will give the presentations on September 14. These Presenters are regular folks who live with the impacts of climate change every day and are ready to share their stories with the world. Today's featured Presenter is Charles Wiriawan, who will be leading the event in Jakarta, Indonesia. Charles Wiriawan grew up in West Java in the shadow of the tallest passive volcano in the province, Mount Ciremai. During the late 1990s he moved to Beijing, and saw the effects of a far more polluted environment. Charles returned to Jakarta in 2006 and resolved to help protect the environment and educate communities about climate change. He believes that it is economically viable and socially responsible to focus on sustainable development, and that this is the best way for Indonesia to retain its natural beauty. Charles now works as a Program Manager for the Eka Tjipta Foundation, a nonprofit organization dedicated to environmental education and conservation. He recently sat down to answer a few questions for us. What's your favorite outdoor place to visit? Sanur and Ubud in Bali. Bali has a kind of "special energy" that attracts many people. And I think that special energy comes from the combination of beautiful nature and kind Balinese people. Balinese are very honest and down to earth. They honor nature and respect other people. What sort of extreme weather have you seen in your hometown? I was there during the flooding in Jakarta in February 2007. The city was paralyzed for a week! I couldn't even go to work; many wealthy people left their homes and stayed in hotels. I remember on the third day, I went out as a volunteer with our foundation to donate food supplies to a shelter in north Jakarta. We had to use heavy-duty military trucks because most of the streets were still flooded. I was surprised to see that despite the high water level, grocery sellers in the local market were already back to work, replacing their bikes or trolleys with a small homemade kayak to sell fresh produce. That was when I personally witnessed and felt the impact of the changing climate. What is your favorite activity to do outside? Practicing yoga and meditation during sunrise, in a park, or on the beach. It's just so enlightening. What is your favorite book? There are quite a few and it changes from time to time, but if I were to name only one now, it would be a very old book called the Bhagavad Gita. We can learn ancient knowledge that is still relevant to our modern life today. I think it is essential to the sustainability of our planet. You take time out of your busy life to give these presentations. What is your motivation? Very simple. I just don't want to see the sky turn grey and the trees fade away.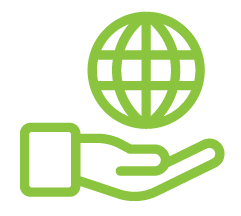 Before You Go
At Climate Reality, we work hard to create high-quality educational content like blogs, e-books, videos, and more to empower people all over the world to fight for climate solutions and stand together to drive the change we need. We are a nonprofit organization that believes there is hope in unity, and that together, we can build a safe, sustainable future.
But we can't do it without your help.
If you enjoyed what you've just read and would like to see more, please consider making a generous gift to support our ongoing work to fight climate denial and support solutions.