September 12, 2011 | 3:48 AM
Meet the Presenter: Dong Sik Lee
With 24 Hours of Reality quickly approaching, it's time you got to know the people who will give the presentations beginning on September 14. These Presenters are regular folks who live with the impacts of climate change every day and are ready to share their stories with the world. Our next featured Presenter is Dong Sik Lee, who will be leading the event in Seoul.
Dong Sik Lee previously was the Chief Investment Officer for Samsung Asset Management, and has now started a new career as an environmentalist. While working in the financial industry, he stressed ethical business practices out of a belief that investors have a moral responsibility to create a better society through their work. He now wants to engage as many companies as possible to help solve the climate crisis. He wants to use education and grassroots activism to spread the word about the threat of climate change and ignite a fresh movement to implement solutions in Korea.
What's your favorite outdoor place to visit?
Lake Park of Ilsan, the town where I live, located north of Seoul. It is a manmade lake created 20 years ago. From the moment I moved to this town in 1996, I told my wife this lake park is a valuable asset [that was] a bonus to our new apartment. My son and daughter [grew up] with trees in the park, and pictures of them taken there show the history of the park.
What sort of extreme weather have you seen in your hometown?
Foot-and-mouth disease spread all over Korea during last winter. It is not about weather in itself but the cause and effect of the incident is a complete weather story. This disease stems from how we feed livestock through the practices of factory farmin,g which is also a major cause of climate change. And the reason that the disease spread so easily during last winter in Korea was the unusual long period of cold days which provided favorable conditions for the viruses of the disease. To keep the infectious disease under control, millions of cattle and pigs had to be killed or buried alive. Through the disastrous winter the numbers of cattle and pigs slaughtered reached to 3.4 million. This was a completely manmade catastrophe that made me feel so painful and responsible.
What is your favorite activity to do outside?
I really like outdoor activities like running and mountain climbing that make me realize what a happy man I am and how I should be thankful for the bright sunshine, for the soft wind and for being able to live such a healthy life. I used to finish full-course marathon once every year but recently started to ride a bike on the way to my office in the morning. Through the one hour and twenty minutes bike ride I can enjoy the view of the beautiful riverbank park along the Han River. But because of the unusual monsoon in this summer which poured rain six out of seven days for two months, I had to give up the pleasure of bike riding.
You take time out of your busy life to give these Presentations. What is your motivation?
I want to be a part of the effort to act on the most important challenge of our generation, the climate crisis. In the 1980s when I was a university student, I was not ready to participate in and do my part in the efforts to act on one of the most important challenges in Korean history, the pro-democracy movement. This time I do not want to repeat the same mistake I made 30 years ago.
What is your favorite book?
No Impact Man: The Adventures of a Guilty Liberal Who Attempts to Save the Planet, and the Discoveries He Makes About Himself and Our Way of Life in the Process by Colin Beavan. This book gave me a hint for the question I often raise to the audience during my presentation. What are you going to leave to the next generation other than the 50 tons of trash you made during your life on this Earth?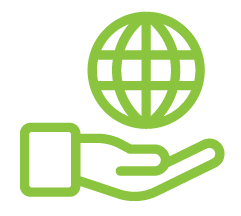 Before You Go
At Climate Reality, we work hard to create high-quality educational content like blogs, e-books, videos, and more to empower people all over the world to fight for climate solutions and stand together to drive the change we need. We are a nonprofit organization that believes there is hope in unity, and that together, we can build a safe, sustainable future.
But we can't do it without your help.
If you enjoyed what you've just read and would like to see more, please consider making a generous gift to support our ongoing work to fight climate denial and support solutions.