August 04, 2011 | 11:18 AM
Meet the Presenter: Evan Williams
As 24 Hours of Reality approaches, we're taking a little time to get to know the people who will give the presentations on September 14. Today's featured Presenter is Evan Williams, who will be leading the event in London, United Kingdom.
For Evan Williams, spreading the word about climate change is a family affair. He became a Presenter after watching An Inconvenient Truth. Both he and his son, Michael, were struck by the need to take action, and he was chosen as a Presenter and trained in Nashville in 2007. His son has worked alongside him to give presentations across the United Kingdom.
Evan is an environmental economist and consultant who lives in Paisley, a town near Glasgow, Scotland. He previously worked for the Scottish Environment Protection Agency, where he was Head of Economics and Sustainable Development. In 2008, he started his own environmental consulting firm, Environmental and Resource Economics, and has partnered with the Prince of Wales for the Princess Rainforest Project.
Evan recently sat down to answer a few questions for us.
What is your favorite activity to do outside?
Swimming. I love the freedom of swimming in open water and in wild places.
What's your favorite place in nature to visit?
I really love Scotland, and being outdoors in Scotland is always a treat. My favorite place is undoubtedly Loch Lomond, where I swim most Wednesday mornings for an hour or so before work. The view from the loch back to shore in the early morning sunshine is quite something.
Tell us about the best presentation you've ever given.
I have given nearly 200 presentations, and I can honestly say I have enjoyed all of them. I really enjoyed speaking to my son Gareth's primary school and being recognized at the local shops or library as "the environment guy" for weeks afterwards.
I did a really enjoyable presentation at Entrading, which is an environmentally friendly shop and cafe in Glasgow set up and run by a couple friends of mine. The whole point of the shop is to showcase environmentally friendly products from cosmetics to furniture. That was a lot of fun, because there was a real enthusiasm to be part of a positive change in the audience.
What is your favorite book?
I like reading, and for fun I really enjoy Christopher Brookmyre. He's a novelist who draws on my hometown Paisley and the West of Scotland as a source of many of his characters and stories.  As a teenager I was very moved by Upton Sinclair's The Jungle, which I still think is one of the most powerful stories I have ever read.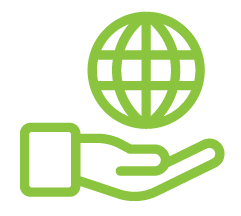 Before You Go
At Climate Reality, we work hard to create high-quality educational content like blogs, e-books, videos, and more to empower people all over the world to fight for climate solutions and stand together to drive the change we need. We are a nonprofit organization that believes there is hope in unity, and that together, we can build a safe, sustainable future.
But we can't do it without your help.
If you enjoyed what you've just read and would like to see more, please consider making a generous gift to support our ongoing work to fight climate denial and support solutions.