August 18, 2011 | 4:41 PM
Meet the Presenter: Ibrahim Al-Zu'bi
With 24 Hours of Reality quickly approaching, it's time you got to know the people who will give the presentations on September 14. These Presenters are regular folks who live with the impacts of climate change every day and are ready to share their stories with the world. Today's featured Presenter is Ibrahim Al-Zu'bi, who will be leading the event in Dubai, United Arab Emirates.
An environmental and civil engineer, Ibrahim Al-Zu'bi has taken environmental work and awareness to another level in the Middle East. He advises the Dubai government on environmental education policies and implementation. He works closely with the United Nations Environment Programme (UNEP) on civil society, youth, sports and sustainable development issues. Ibrahim is also a passionate diver, and is the Environmental Advisor and the Executive Director of the Emirates Diving Association, a UNEP-accredited NGO.
Ibrahim recently sat down to answer a few questions for us.
What's your favorite outdoor place to visit?
I live in a place that is mainly desert and sea, an amazing combination.
What sort of extreme weather have you seen in your hometown?
Well, the temperature in the summer here reaches to 50°C and humidity sometimes gets to 90%. But still, believe it or not, we can feel when it is warmer than usual. The extreme can get extremer even in the desert.
What is your favorite activity to do outside?
They call me the underwater spaceman. I love diving and for me, being underwater is the closest to nature I can be. Also, camping in the desert is great.
You take time out of your busy life to give these presentations. What is your motivation?
Part of my motivation is a bit selfish … I need to do my part to conserve the earth — my home. I really don't want to regret not even trying to do my part to help our planet … I have to say I enjoy this challenge, as you can see the change in people's actions, and you get this amazing, priceless feeling that I made a difference.
What is your favorite book?
Losing my Virginity (an autobiography of Richard Branson); An Idiot Abroad by Karl Pilkington, Ricky Gervais and Stephen Merchant.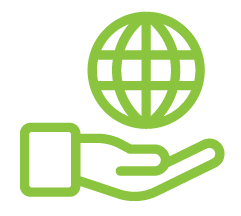 Before You Go
At Climate Reality, we work hard to create high-quality educational content like blogs, e-books, videos, and more to empower people all over the world to fight for climate solutions and stand together to drive the change we need. We are a nonprofit organization that believes there is hope in unity, and that together, we can build a safe, sustainable future.
But we can't do it without your help.
If you enjoyed what you've just read and would like to see more, please consider making a generous gift to support our ongoing work to fight climate denial and support solutions.