August 09, 2011 | 1:57 PM
Meet the Presenter: John Zavalney
With 24 Hours of Reality quickly approaching, it's time you got to know the people who will give the presentations on September 14. These Presenters are regular folks who live with the impacts of climate change every day and are ready to share their stories with the world. Today's featured Presenter is John Zavalney, who will be leading the event in Boulder, Colorado.
When it comes to educating people, John Zavalney is an expert. An award-winning teacher who has worked in the Los Angeles public school system for more than 20 years, he is now a science expert at the San Pedro Science Center. He became interested in climate change during his long career as an educator and has been involved in a variety of environmental education programs. John has always had a passion for science, and was especially motivated when he participated in a taping of a presentation by Al Gore that was shown in An Inconvenient Truth. He received an American Teacher Award as one of the top three science teachers in the country and was awarded the Global Leadership Award in Education by the Jane Goodall Institute. John also runs a 3-acre urban garden that showcases food sustainability.
John recently sat down to answer a few questions for us.
What's your favorite place in nature to visit?
My favorite places to visit and relax are the beaches and coral reefs of the Caribbean. In California, my favorite place to enjoy and commune with nature is the redwood forests.
What is your favorite activity to do outside?
My favorite thing to do outside is to play a little golf. This year, however, I am learning all about gardening and farming. I have spent very little time golfing recently and instead spend most weekends at the San Pedro Science Center "farming." I have learned to enjoy the work and am very proud of the various flowers, vegetables and fruits that have blossomed and grown. I had no idea I could grow so many different crops!
You're taking time out of your busy life to give this presentation. What is your motivation?
My motivation is the youth of today. I am a teacher who loves what he does. I have seen young people learn, get excited and get involved in making the world around them a better place. To see the light bulb go on when a student understands and gets it, is my motivation. Most people do not seem to give the youth of today much credit for being able to understand the issues and make real changes. I have been privileged to work with some of the most amazing, motivated young people in the world. They are why I keep doing what I'm doing.
Tell us about the best presentation you've ever given.
I gave a presentation at my alma mater West Liberty State College (now University) in West Virginia. In a coal mining state like West Virginia, I was a little nervous to talk about the need to transition off of dirty coal and illustrate the environmental damage done by the mountaintop leveling that takes place in the southern part of the state. I received a very positive response and actually got my first standing ovation. This presentation gave me more confidence to give presentations outside my usual comfort zone of preaching to the choir around Los Angeles and in classrooms.
What is your favorite book?
Favorite books fall into two categories for me. The mind candy books like Harry Potter are a great escape. The other category could be described as educational. The last book I read that had a real impact on me was Hot, Flat and Crowded by Thomas Friedman. This book really does a great job of putting into perspective the mess we have gotten ourselves in, along with positive steps some are taking to remedy the situation.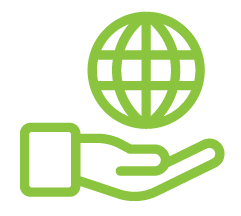 Before You Go
At Climate Reality, we work hard to create high-quality educational content like blogs, e-books, videos, and more to empower people all over the world to fight for climate solutions and stand together to drive the change we need. We are a nonprofit organization that believes there is hope in unity, and that together, we can build a safe, sustainable future.
But we can't do it without your help.
If you enjoyed what you've just read and would like to see more, please consider making a generous gift to support our ongoing work to fight climate denial and support solutions.