September 08, 2011 | 10:00 PM
Meet the Presenter: Jose Ramon
With 24 Hours of Reality quickly approaching, it's time you got to know the people who will give the presentations beginning on September 14. These Presenters are regular folks who live with the impacts of climate change every day and are ready to share their stories with the world. Our next featured Presenter is Jose Ramon, who will be leading the event in Cape Verde.
Jose Ramon is professor of Health Education at the University of Las Palmas Gran Canaria in the Canary Islands. For years, Jose was a prestigious international lecturer on tobacco control, and he has found that companies that deny climate change are using the same tactics to confuse the public. He decided to devote his efforts to using scientific evidence to convince people about the reality and magnitude of climate change. His program, Campus of Excellence, is one of his main areas of interest. It helps talented young people succeed through exposure to experts in their fields, including Nobel laureates.
Tell us about the best Presentation you've ever given.
The best presentation I ever gave on climate change was in Ecuador. I was invited by the former President of Ecuador, Dr. Rosalía Arteaga. It was an international conference with people from eight countries, reporters, and representatives from the U.N. The audience reacted very well. They had a lot of questions and we had an excellent discussion.
What's your favorite outdoor place to visit?
The Canary Islands. I especially love Fuerteventura and Gran Canaria. There is spring weather the entire year. I love to walk everywhere while I am there.
What is your favorite activity to do outside?
I love to walk. You can see the landscape and you can think about anything. I like to reflect on what is going on while I go on my walks. When I am visiting the Canary Islands I walk about five or six kilometers a day.
You take time out of your busy life to give these presentations. What is your motivation?
I believe that we have a serious problem with our climate and there are companies trying to deny the scientific evidence. As a long time activist against the tobacco lobbying, I feel that fossil fuel companies are using the same strategies that tobacco companies did. I cannot stand to see attacks on sound science used to delay action on a critical problem we are all facing.
What is your favorite book?
The autobiography of Nelson Mandela. I am reading it right now and I am very impressed with his story. He changed the mind of an entire country. He was able to do what others were not able to do.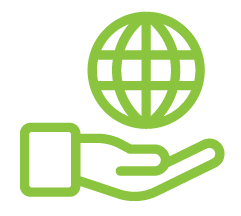 Before You Go
At Climate Reality, we work hard to create high-quality educational content like blogs, e-books, videos, and more to empower people all over the world to fight for climate solutions and stand together to drive the change we need. We are a nonprofit organization that believes there is hope in unity, and that together, we can build a safe, sustainable future.
But we can't do it without your help.
If you enjoyed what you've just read and would like to see more, please consider making a generous gift to support our ongoing work to fight climate denial and support solutions.