September 09, 2011 | 3:28 PM
Meet the Presenter: Larry Schweiger
With 24 Hours of Reality quickly approaching, it's time you got to know the people who will give the presentations beginning on September 14. These Presenters live with the impacts of climate change every day and are ready to share their stories with the world. Today's featured presenter is Larry Schweiger, a board member at The Climate Reality Project and the President and CEO of the National Wildlife Federation. He will be leading the presentation in Kotzebue, Alaska.
Larry Schweiger became President and CEO of the National Wildlife Federation in 2004 with a commitment to confront the climate crisis and to protect wildlife for our children's future. Previously, Larry served for eight years as President and CEO of the Western Pennsylvania Conservancy, where he pioneered watershed restoration and promoted ecological research, land conservation and community outreach. Prior to that, Larry was the Executive Secretary of the Joint House/Senate Conservation Committee for the Pennsylvania General Assembly, Senior Vice President for Conservation Programs at National Wildlife Federation, and the first Vice President of the Chesapeake Bay Foundation.
Larry is an active community leader, having served on more than 40 governing boards, commissions and committees. In addition to his service on the board of The Climate Reality Project, he currently serves on the Boards of Directors of the John Heinz Center for Science, Economics and the Environment; the Blue Green Alliance; and National Wildlife Federation Action Fund. Larry is married and has three adult daughters, two sons-in-law, and three grandsons.
Larry recently sat down to answer a few questions for us.
Tell us about the best presentation you've ever given.
I'm not sure if it was my best, but I once did a presentation in Yellowstone National Park when it was 42 below zero. It's not a popular season for tourists, but the wildlife viewing is spectacular.
What's your favorite outdoor place to visit?
I'm a Pennsylvanian and am partial to Ohiopyle State Park. It's a great place for wildlife watching with plentiful white-tailed deer, black bear, bobcats and river otters. Ohiopyle is also excellent for birdwatching.
What sort of extreme weather have you seen in your hometown?
Hurricane Agnes in 1972 was awful for my home state of Pennsylvania. It dropped 18 inches of rain in 48 hours. It made landfall in Florida but the worst damage occurred along a swath from central Virginia through central Pennsylvania to the southern Finger Lakes region of New York. Agnes killed 129 people.
What is your favorite activity to do outside?
Wildlife photography is a favorite. If you visit my Facebook page, you'll see some prized pictures of bears swimming and fishing in Alaska, and a coyote on the hunt in Yellowstone.
What is your favorite book?
I read many books and wrote one, but if I were to pick one it would be The Sea Around Us by Rachel Carson. It's a poetic and prize-winning 1951 bestseller about oceanography, marine biology and the ecosystems within and around the world's oceans and seas.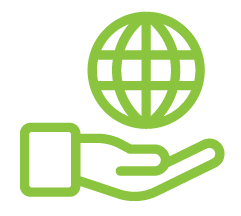 Before You Go
At Climate Reality, we work hard to create high-quality educational content like blogs, e-books, videos, and more to empower people all over the world to fight for climate solutions and stand together to drive the change we need. We are a nonprofit organization that believes there is hope in unity, and that together, we can build a safe, sustainable future.
But we can't do it without your help.
If you enjoyed what you've just read and would like to see more, please consider making a generous gift to support our ongoing work to fight climate denial and support solutions.