August 10, 2011 | 10:14 AM
Meet the Presenter: Peter Schiefke
With 24 Hours of Reality less than 50 days away, it's time you got to know the people who will give the presentations on September 14. These Presenters are regular men and women who live with the impacts of climate change every day and are ready to share their stories with the world. Our next featured Climate Presenter is Peter Schiefke, who will be leading the event in Victoria, Canada.
Born and raised in Montreal, Peter Schiefke's first experience with the impacts of climate change came from somewhere a little far from home: the East African plateau. As an undergraduate at Concordia University, he created the Concordia Volunteer Abroad Program, designed to connect Canadian youth with their peers in developing nations. During a trip to Uganda, he witnessed the impacts of extreme weather events such as droughts and severe flooding, an experience that motivated him to work to fight climate change. Upon his return to Montreal, Peter co-founded Youth Action Montreal, an organization that encouraged students to become more active in fighting climate change in their communities.
Peter recently took a few minutes out of his busy life to answer a few questions for us.
What's your favorite place in nature to visit?
I love to visit Sainte Agathe des Monts, a small remote community in Quebec north of Montreal. My family has a small home there, situated on a lake. It is a place where I like to bring friends, eat great food, take a swim, or take the boat out.
What do you like to do outside?
My favorite activities are golfing, boating and running.
You take time out of your busy life to give these presentations. What is your motivation?
My motivation is simply this: I am a firm believer in the unwritten commandment that says: "We should leave a better world for our children than the one bequeathed to us by our parents and ancestors." If this was applied by all citizens of the world, we would indeed be living in different times. As the great environmentalist and humanist Dr. David Suzuki once said: "With our overzealous use of fossil fuels and natural resources we are using the rightful legacy of future generations. It is not ours to use."
Tell us about the best presentation you've ever given.
I was once asked to deliver to a third-year international relations class at McGill University [in Montreal]. Although my presentations are normally given to audiences in Canada, and primarily addressing climate change in a Canadian context, I was asked to speak about how climate change will affect people living in developing nations, particularly those living in sub-Saharan Africa. I was excited to draw from my experiences from my time working in Uganda. The experience allowed me to learn even more about a subject that I am passionate about.
Last question: what is your favorite book?
My favorite books would have to be The Legacy by David Suzuki, and Great Canadian Speeches. For different reasons they inspire me and I can read them over and over again without tiring of them.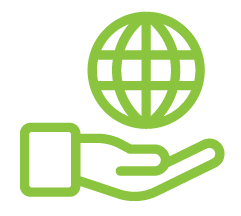 Before You Go
At Climate Reality, we work hard to create high-quality educational content like blogs, e-books, videos, and more to empower people all over the world to fight for climate solutions and stand together to drive the change we need. We are a nonprofit organization that believes there is hope in unity, and that together, we can build a safe, sustainable future.
But we can't do it without your help.
If you enjoyed what you've just read and would like to see more, please consider making a generous gift to support our ongoing work to fight climate denial and support solutions.