August 04, 2011 | 11:17 AM
Meet the Presenter: Rachel Brown
As 24 Hours of Reality approaches, we're taking a little time to get to know the people who will give the presentations on September 14. Today's featured Presenter is Rachel Brown, who will be leading the event in Auckland, New Zealand.

Rachel Brown is no stranger to the business of saving the planet. As Founder and Chief Executive of the Sustainable Business Network, she heads up the largest national network of businesses committed to sustainable development in New Zealand. She is a pioneer in the sustainable development field with nearly 20 years of experience. Her work in the late 1990s helped introduce New Zealand businesses to the Natural Step framework, a science-based model that helps communities and businesses understand and integrate environmental, social and economic considerations. She'll be presenting live from her hometown of Auckland in September.
Rachel recently sat down to answer a few questions for us.
What is your favorite activity to do outside?
I love getting into the outdoors and enjoy exercising, particularly walking through our forests and along our beaches. We are very lucky here in New Zealand to have such a stunning natural environment.  I also enjoy riding my mountain and road bike — particularly with my son — and like to do as much commuting as I can via foot or bike.
What is the one place you think first-time visitors to New Zealand should see?
If someone was coming to New Zealand, I would encourage them to head to the South Island. Auckland is a great city with plenty to do and a good place to start. But the South Island is stunning and has contrasts in nature you don't see anywhere in the world. We are very lucky to live here. You should come and visit!

You take time out of your busy life to give these presentations. What is your motivation?
I have been involved in environmental action for most of my life, starting as a wee child with helping my mother to inform our Council on the importance of protecting mangroves from motorways. My motivation cranked up when I went traveling in my early 20s. It was then I got to see the impact on societies when we don't look after our natural environment or when wealth/access inequalities affect community well-being. On my travels I saw extreme poverty with families living in makeshift tents living on roundabouts in India, and rivers flowing black with pollution. It highlighted to me the link between deteriorating human and environmental health and I questioned how humanity could let this happen.
So I try to do my bit to play a role in lifting the awareness in New Zealand. It's a confusing issue for people to understand, and it's constantly being challenged by vested interests. My aim is to help people see that shifting to renewable, less toxic or [less] wasteful systems is win-win, and that it's an opportunity for business and a nicer way of living. We can all play a role in the solution. So I do take time out to talk to people about this. I think it's really important and I can't think of anything else that is more important to do with my life.

What is the most frequent question you get when you give a presentation?
People often ask, "Okay, I get that climate change is happening, but what do we do about it?" I find that people tend to agree the climate is changing. But they are not sure that humans are really affecting it or if it's natural phenomena, so they feel they don't need to do anything differently. I like to remind people that there are a number of systemic challenges we have to consider, particularly peak oil. We live in exciting times, and we can redesign everything for the betterment of all of us.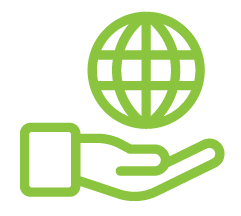 Before You Go
At Climate Reality, we work hard to create high-quality educational content like blogs, e-books, videos, and more to empower people all over the world to fight for climate solutions and stand together to drive the change we need. We are a nonprofit organization that believes there is hope in unity, and that together, we can build a safe, sustainable future.
But we can't do it without your help.
If you enjoyed what you've just read and would like to see more, please consider making a generous gift to support our ongoing work to fight climate denial and support solutions.