September 12, 2011 | 5:08 PM
Meet the Presenter: Roberto Vámos
With 24 Hours of Reality quickly approaching, it's time you got to know the people who will give the presentations beginning on September 14. These Presenters are regular folks who live with the impacts of climate change every day and are ready to share their stories with the world. Our next featured Presenter is Roberto Vámos, who will be leading the event in Rio de Janeiro.
As a young boy, Roberto Vámos witnessed the forests vanishing from the landscape of his native state of Rio de Janeiro, an experience which sparked his passion for environmentalism. Roberto now works at Brasil S, a consulting company that offers efficiency and sustainability solutions to clients. He is the Director of Content for the Global Sustainability Forum, an annual event in the Amazon Rainforest that brings together business and political leaders to discuss and implement sustainability practices. Roberto also helps facilitate the "greening" of large-scale events, such as the 2007 Live Earth concert at Copacabana Beach.
Roberto recently sat down to answer a few questions for us.
Tell us about the best presentation you've ever given.
One that sticks out in my mind is the presentation I gave at the Catholic University of Rio. It was an open presentation, and some of the staff workers of the University came by to listen. At the end, a janitor stood up and said that he wished everyone could hear my message, because this is something that is going to affect all of us, but that few people really understand.
What's your favorite place in nature to visit?
I love mountains, and the mountains close to the city of Rio de Janeiro have always been some of my favorite spots. About ten years ago, my family bought an area of forest in the mountains between Teresópolis and Nova Friburgo and set up a private conservation area. I have been going to these mountains since I was a kid, and noticing that the forests in these mountains were gradually disappearing was one of the reasons I became an environmentalist.
What sort of extreme weather have you seen in your hometown?
Rio de Janeiro has been hit by very intense rainstorms over the past years. In 2010, mudslides caused by heavy rains killed more than 200 people in the city of Rio and in Niterói, a city across the Guanabara Bay. This January, incredibly intense rains caused flash floods and mudslides in Petrópolis, Teresópolis and Nova Friburgo (cities in the mountains about 120 kilometers from Rio) that killed over 900 people. It was the worst natural disaster in Brazilian history. Almost everyone in these towns knows someone who was either killed, injured or left homeless by these mudslides and flash floods.
What is your favorite activity to do outside?
My favorite outside activities are hiking and photography. I love extended hikes, especially up mountains. In January, I took an 8-day journey up Mount Roraima, on the border between Brazil and Venezuela. It was an incredible trip, with scenery that harked back to pre-historic times.
You take time out of your busy life to give these presentations. What is your motivation?
My motivation comes from a deep love of nature and the realization that the world I was born in is not the one that I will be leaving to my daughter and her children. It will be a very different world, and I don't think that anyone who deeply loves his or her children and understands the changes that are happening can sit still and not do anything.
What is your favorite book?
Over the past two years, I have been reading quite a lot about sustainability, [the] climate crisis and the natural history of our planet, and two books stand out in my mind: Natural Capitalism by Paul Hawken, Amory Lovins and L. Hunter Lovins, and Michael Pollan's The Omnivore's Dilemma.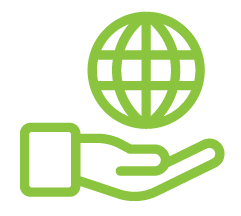 Before You Go
At Climate Reality, we work hard to create high-quality educational content like blogs, e-books, videos, and more to empower people all over the world to fight for climate solutions and stand together to drive the change we need. We are a nonprofit organization that believes there is hope in unity, and that together, we can build a safe, sustainable future.
But we can't do it without your help.
If you enjoyed what you've just read and would like to see more, please consider making a generous gift to support our ongoing work to fight climate denial and support solutions.