September 06, 2011 | 10:00 PM
Meet the Presenter: Rodne Galicha
With 24 Hours of Reality quickly approaching, it's time you got to know the people who will give the presentations beginning on September 14. These Presenters are regular folks who live with the impacts of climate change every day and are ready to share their stories with the world. Today's featured Presenter is Rodne Galicha, who will be leading the event that will highlight the Solomon Islands.
A native of the Philippines, Rodne Galicha works to protect biodiversity and foster sustainable development. He grew up near dense, lush forests and lived in the shadow of Mt. Guiting-Guiting, an area with amazing biodiversity that is home to many endangered plants and animals. The threat of climate change in the Philippines motivated Rodne to speak out to address these dangers.
Rodne has dedicated his career to making environmentalism a moral and spiritual imperative, and has been invited to speak by many faith-based organizations. He is the Executive Director of Sibuyan Island Sentinals League for Environment Inc.
Rodne recently sat down to answer a few questions for us.
Tell us about the best presentation you've ever given.
It was a five-hour motorboat ride to an isolated island in the middle of the Philippines. I happened to drop by a small village school and was given the opportunity to talk about the climate crisis to about 15 schoolchildren. Since there was no electricity, I managed to use chalk and illustrated the basics of the climate crisis on the blackboard — the greenhouse effect and the carbon cycle, among others. The children were so receptive and they committed themselves to make a change in their own homes and schools.
What is your favorite activity to do outside?
I just want to sit down on a rock, look at the horizon, close my eyes while feeling my breathing in and out — best to enjoy the orchestra of the gentle waves weaved in to the noise of chirping birds of the Sibuyan Sea. From the seashore, [I take] a little walk to the mountain side and give due respect to the majesty of Mt. Guiting-Guiting while dipping my feet in the cold waters of Dagubdob Falls.
You take time out of your busy life to give these presentations. What is your motivation?
It is the commitment to share what I have learned. I was taught by my alma mater, the Royal and Pontifical University of Santo Tomas, to share the fruits of what I have learned and experienced. It is the call to show the truth, not to deny it but to bring the challenge to everyone armed with wisdom and knowledge which calls for comprehensive and collective action on the greatest crisis humanity has ever faced.
What is your favorite book?
I have been inspired by Herman Hesse's Siddhartha. We must learn from our experiences and share [with] others. Asceticism may be ancient but it is seems that it is what we need to face the climate crisis. Unless we are unable to realize that we are part of the whole ecological system, we are unable to solve our problems.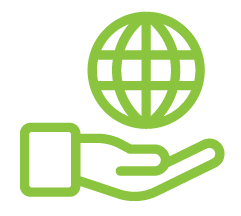 Before You Go
At Climate Reality, we work hard to create high-quality educational content like blogs, e-books, videos, and more to empower people all over the world to fight for climate solutions and stand together to drive the change we need. We are a nonprofit organization that believes there is hope in unity, and that together, we can build a safe, sustainable future.
But we can't do it without your help.
If you enjoyed what you've just read and would like to see more, please consider making a generous gift to support our ongoing work to fight climate denial and support solutions.