July 28, 2011 | 7:32 PM
Meet the Presenter: Sigurður Eyberg
Image used with permission: Sigurður Eyberg
With 24 Hours of Reality less than 50 days away, it's time you got to know the people who will give the presentations on September 14-15. These Presenters are regular men and women who live with the impacts of climate change every day and are ready to share their stories with the world. Today's featured Presenter is Sigurður Eyberg, who will be leading the event in Husavik, Iceland.
Calling Sigurður Eyberg's life "interesting" is an understatement. A graduate of the East-15 Acting School in London, he is recording artist who released a full-length album earlier this year. And after receiving his M.S. in Environmental and Natural Resources from the University of Iceland last year, Sig now serves as the Project Manager for the foundation Gararsholmur, a scientific institution dedicated to environmental discussion and research. He is now at work on a book about how to reduce human impacts on the climate and the natural world, and is creating a documentary about his quest to live within the limits of sustainability.
Sig recently sat down to answer a few questions for us.
What's your favorite place in nature to visit?
Hmmmm ... so many! And really any natural place that is ecologically healthy is a joy to be in. In Iceland there is normally the prerequisite of dressing right for the occasion -- otherwise you may not enjoy nature so much.
What is your favorite activity to do outside?
Funny as it may sound, it is probably reading.
What is your favorite book?
I want to say The Lord of the Rings, but that may be because I just bumped into someone who was reading The Hobbit, and we were chatting about it. To me a book should first and foremost entertain, and then it can be clever and all those other things. If it is terribly deep and clever but boring, I have very little time for it. Of course I am talking about novels and such, but to a certain extent this applies to scientific writing as well -- it should always be written in the clearest, most accessible way possible.
What sort of extreme weather have you seen in your hometown?
I remember storms from when I was a child, but I think I can recall about three big ones during my whole childhood. Recently it seems like three in one year is not much. Also we have had some of the hottest days ever here lately, what has felt to me like freakish heat in Iceland.
You're taking time out of your busy life to give this presentation. What is your motivation?
Right now, I find it hard to believe that we, the human race, actually will manage to respond to the danger of climate change. I see little sign of it so far ... I hope that someday, somehow all these different little things will reach a tipping point, and suddenly a landslide event or awareness comes about very quickly. So I guess rather than simply giving up, I want to add my little contribution to the pile.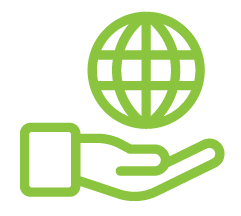 Before You Go
At Climate Reality, we work hard to create high-quality educational content like blogs, e-books, videos, and more to empower people all over the world to fight for climate solutions and stand together to drive the change we need. We are a nonprofit organization that believes there is hope in unity, and that together, we can build a safe, sustainable future.
But we can't do it without your help.
If you enjoyed what you've just read and would like to see more, please consider making a generous gift to support our ongoing work to fight climate denial and support solutions.