August 31, 2011 | 10:48 AM
MEET THE PRESENTER: VANESSA MORRIS
These Presenters are regular folks who live with the impacts of climate change every day and are ready to share their stories with the world. Our next featured Presenter is Vanessa Morris, who will be leading the event in Australia.
Vanessa Morris was the founding Executive Officer of SEE-Change (which stands for Society, Environment and Economy), a sustainability movement based in the Australian capital city of Canberra. She is a former radio broadcaster for the Australian Broadcast Corporation (ABC) and produced morning shows for stations in Sydney and Canberra. Vanessa recently began working with the federal government's Department of Resources Energy and Tourism, communicating with heavy industry about energy efficiency programs and compliance. She recently sat down to answer a few questions with us. Tell us about the best presentation you've ever given.
I once presented to a group of 80 Australian and overseas students who were visiting a revolutionary farm outside Canberra, which is developing and "trialing" a way of managing the land called Natural Sequence Farming. This process aims to build up the water table and repair heavily eroded creek beds. It has taken decades to gain acceptance, so completely does it contradict the dominant European agricultural practices here, and the students (and I) were there to learn about how it works. Doing a two-hour walking tour before the presentation enabled me to speak to the students and find out where they came from and what they knew of the climate issue.
The presentation then took on a whole new level of relevance and meaning —for all of us. What's your favorite outdoor place to visit? At the moment, it is a beach two and a half hours' drive from our inland city of Canberra, in a national park, called Depot Beach. The trees at Depot come down to the sand — very rare in Australia as most of our coastline has been developed. We love to go camping there with our two small children and a group of friends, see the sting rays, eagles and kangaroos — occasionally even the local dolphins pay us a visit. What sort of extreme weather have you seen in your hometown? Our city was literally built on the top of several large sheep stations. It is dry and getting drier. Although we've had some good rain recently, we have been living with high water restrictions for years and expect this to continue.
Until about eight years ago, Canberra prided itself on being a garden city. However, we can't water like we used to, and now it is more wheat-colored than grass-green and gardeners are turning to native plants over European plants to cope with the heat and reduced water supply. What is your favorite activity to do outside? Cycling. There are great cycle paths here, it combines fun and exercise in one, and it's a cool way to get to work. What is your favorite book? The Secret River by Kate Grenville, about life on the Hawkesbury River north of Sydney during Australia's settlement. It's an insightful story about an English ex-convict, desperately trying to create a home in a foreign country and of the aboriginal people who lost their culture and inheritance in a matter of years.
If we're honest, I think most Australians would admit to being fairly ignorant about this time in our history. This story has been a revelation to hundreds of thousands of us, and has been extremely popular in Australia.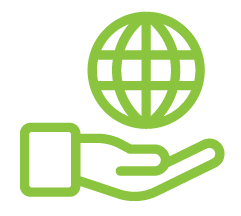 Before You Go
At Climate Reality, we work hard to create high-quality educational content like blogs, e-books, videos, and more to empower people all over the world to fight for climate solutions and stand together to drive the change we need. We are a nonprofit organization that believes there is hope in unity, and that together, we can build a safe, sustainable future.
But we can't do it without your help.
If you enjoyed what you've just read and would like to see more, please consider making a generous gift to support our ongoing work to fight climate denial and support solutions.