February 07, 2012 | 9:35 AM
Melting ice in the Swiss Alps
This is the first of two blog posts about the impacts of melting glaciers in Switzerland.
I'm Katie Parsons. I'm an American attending graduate school in Paris, and have been working with The Climate Reality Project for a while now. As a flatlander who grew up in the American Midwest, I was excited to learn how mountain communities on this continent are affected by retreating glaciers. So on my winter holidays from school, I set out to discover how glacial retreat has already increased the risk of alpine hazards in the heart of the Swiss Alps, and what businesses and communities are doing to respond.
In mid-January, I boarded a train in Paris and headed east to Zurich. I spoke to Prof. Martin Funk, Head of the Section of Glaciology at the Laboratory of Hydraulics, Hydrology and Glaciology at the Swiss Federal Institute of Technology, Zurich, a science and technology university.
First, I asked Prof. Funk to explain why glaciers are retreating. "The melt rate depends on the relative magnitude of all of the energy in the system.You must look in more detail if you want to describe the process accurately," he said. "But the main conclusion – if temperature is expected to increase in the next few decades, of course the melt rate will increase."
He added: "For me, the one thing that makes clear that the climate is changing is the glaciers, especially in the Alps. If you look at what is causing this change, and you look at the projections for the near future ... this is one of the best indications to show to people that climate change is serious."
At the University of Zurich, I also spoke to Dr. Christian Huggel, member of the Glaciology and Geomorphodynamics Group.
Dr. Huggel gave me some examples of the risks that high-mountain communities face as these glaciers retreat. For example, he told me about debris flows, basically rivers of stone and sediment, that forced the shutdown of a major transnational gas pipeline in the central Alps of Switzerland.
"New debris flows started, in locations where you never had this kind of debris flow before," Dr. Huggel said. Many people depend on the gas for heating, he said, "and when the pipeline had to be shut off it was a huge loss. Something like hundreds of thousands of dollars were lost each day. So they had large construction and tunneling. Tens of millions of dollars were spent on mitigation. A highway is also affected, and the authorities now plan to build a bridge to protect that infrastructure from new flows."
Photo: Dr. Christian Huggel
As another example, Dr. Huggel told me about a situation on Monte Rosa, which is the highest peak in Switzerland and lies on the Italian border. A glacier lake had formed at the base of an unstable rock wall. If those rocks fell, it could mean a devastating flood for the people living in the valleys below.
"So there was a big emergency effort in 2002," he said. "It cost something like $10 million to drain the lake. It was an effort for Italy including civil protection and military action, and it was very difficult because of the conditions. In the end, the lake was drained as a combination of artificial and natural drainage. Very fortunately, at the time of the big rock and ice avalanches not long after, the lake had been drained. If the lake had been there at the time, it would have been really terrible."
Dr. Huggel reminded us that now is the time to take action to prepare for events like floods and avalanches as a result of the glacial retreat that's exacerbated by climate change. "Of course these are quite rare, but the problem is that they're changing in frequency and location so we really need to have good strategies on how to manage the risks."
You can find out more about Prof. Funk's research here (a German-language website) and Dr. Huggel's research here. For a database of hazard events, check out: glacierhazards.ch.
To find out what I learned in Zermatt, a village in the Swiss Alps, stay tuned for Part 2.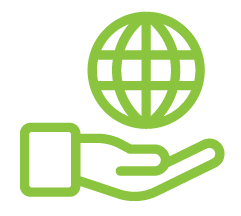 Before You Go
At Climate Reality, we work hard to create high-quality educational content like blogs, e-books, videos, and more to empower people all over the world to fight for climate solutions and stand together to drive the change we need. We are a nonprofit organization that believes there is hope in unity, and that together, we can build a safe, sustainable future.
But we can't do it without your help.
If you enjoyed what you've just read and would like to see more, please consider making a generous gift to support our ongoing work to fight climate denial and support solutions.