November 12, 2014 | 2:41 PM
The Message from the US and China Is Clear: Now Is the Time to Act on Climate‏
The United States and China are the world's two biggest economies, the largest emitters of greenhouse gas emissions (GHGs), and the largest historical emitters of GHGs. China's population is well over 1 billion people, with a rapidly expanding middle class and an economy that has been accelerating at breakneck speed for the past two decades. If the climate crisis is to be resolved, these two countries must cast off their past differences and distrust, and work together hand-in-hand to show the world that they're ready to lead the way and reign in carbon emissions.
Here's the good news – that's exactly what they've just done.
Last night in Beijing, US President Barack Obama and Chinese President Xi Jinping made a joint announcement on their plans to address climate change after 2020. The US will cut its emissions 26—28 percent below 2005 levels by 2025, doubling its current pace of reduction. China announced that its carbon emissions would peak by 2030, a remarkable goal for a nation that has built its powerful economy on the back of coal-fired energy. China will also source 20 percent of the energy it consumes by 2030 from clean sources.
The announcement comes just days before the leaders will join other heads of state in Brisbane, Australia for the G20 economic talks. Australia has left climate change off the agenda, much to the dismay of civil society around the world. The US and China have made it clear that if Australia won't address climate change, two of its main trading partners will.
One more thing is crystal clear – while the commitments are not as strong as what many believe are necessary, they signal that the world is ready to leave behind dirty, outdated energy sources and move forward with clean, modern sources such as wind and solar. This transition has not been and will not be easy, with some lawmakers in the US vowing to block action on climate change. Furthermore, powerful actors with vested interests in fossil fuels are working to remove the incentives for wind power that has made it competitive with the dirty energy sector that enjoys billions of dollars in subsidies. For China, the nation must now add up to 1,000 GW of clean energy, about the same as all of its current-day coal plants.
The timing is important as these commitments come as world leaders are looking ahead to the 21st Conference of the Parties to the United Nations Framework Convention on Climate Change (COP21) talks scheduled for Paris in December 2015. The primary goal of the COP21 is a binding agreement on carbon reduction, with many nations due to submit their individual commitments next March.
By making their commitments together and before the March deadline, the US and China have ensured that they will have support from each other. And by leading together, they will encourage the rest of the world to follow. The EU, for its part, has already announced that its emissions will fall by at least 40 percent from 1990 levels by 2030. The result is that three of the top GHG emitters in the world have now announced their commitments for Paris well in advance of the March 2015 due date.
The world can and will be more ambitious, and as the cost of renewable energy drops, all three parties should be able to significantly strengthen their targets. Setting these preliminary goals, however, will help drive a boom in clean energy investment and catalyze action around the world that makes last night's commitments appear paltry in comparison.
In three weeks, nations will come together at the COP20 talks in Lima, Peru to continue to hash out the details of the global agreement to address climate change that will be finalized in Paris. Now the cards on are the table, and the players all know the stakes. Now is the time to act.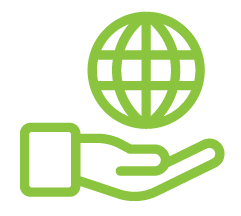 Before You Go
At Climate Reality, we work hard to create high-quality educational content like blogs, e-books, videos, and more to empower people all over the world to fight for climate solutions and stand together to drive the change we need. We are a nonprofit organization that believes there is hope in unity, and that together, we can build a safe, sustainable future.
But we can't do it without your help.
If you enjoyed what you've just read and would like to see more, please consider making a generous gift to support our ongoing work to fight climate denial and support solutions.