April 10, 2018 | 1:23 PM
Mexico Leadership Corps Training: The First Step to Climate Action
Take three days of eye-opening conversations, all kinds of ideas buzzing back and forth, and a ton of motivation, and what do you get?
After the 37th Climate Reality Leadership Corps training, which took place in Mexico City from March 21-23, you get nearly 700 activists ready to tackle the climate crisis.
Just as exciting, you also get a look at the future of the climate movement. Because our training included people of all ages and backgrounds, coming from almost every part of Mexico and beyond to learn what they could do to solve this crisis. Which makes us at Climate Reality more hopeful than ever.
Out of all the places in the world, why did we choose Mexico, you might ask? Home to more than 120 million people, America's southern neighbor is already experiencing dire consequences linked to the climate crisis. The country has battled rising temperatures, increasing water concerns, and threatened cropland. And the long-term threats to the country, and particularly Mexico City, are even more alarming.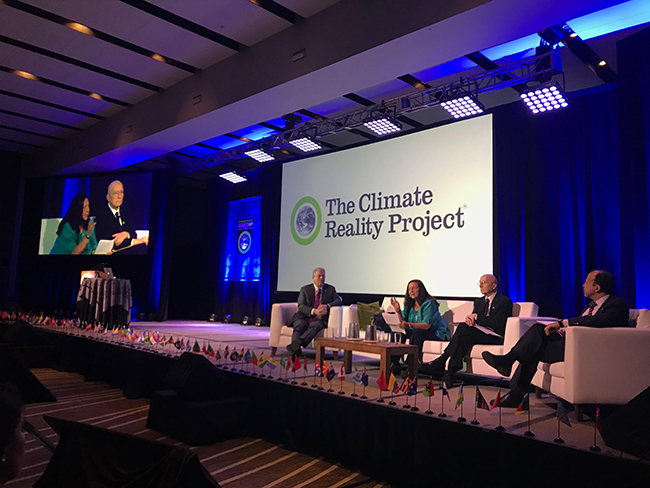 "In the City of Mexico, we foresee greater droughts in the future," Secretary of the Environment of Mexico City Tanya Müller Garcia said in one of the event's opening panels. "We can expect more intensive rains, the increase of temperature, and diseases transmitted by different vectors as a result of climate change."
But these impacts and the way they're transforming the lives of more and more Mexicans weren't the only reasons we chose Mexico City.
Because in spite of what's happening, we're happy to say that there is an inspiring will in Mexico to fight climate the climate crisis, reduce CO2 emissions, and keep Mexico City's eye-watering pollution in check. Cities across Mexico are already rolling out many creative ideas, such as expanding metro lines, developing zero-emissions corridors, and creating more pedestrian-friendly zones.  
>>Here's How Climate Change is Affecting Mexico<<
Mexico City, in particular, has come a long way since 1992 when the UN labeled it the most polluted city in the world. But there's still a long way to go – and that's where Climate Reality trainees will have a crucial role.
Throughout the training, participants had the opportunity to learn from renowned speakers, such as chemist Dr. Mario Molina, who was the first Mexico-born person to win the Nobel Prize in Chemistry in 1995. Dr. Molina, who is now a professor of chemistry and biochemistry at the University of California San Diego, gave an insightful presentation on science and policy and reminded trainees about society's responsibility to tackle climate change.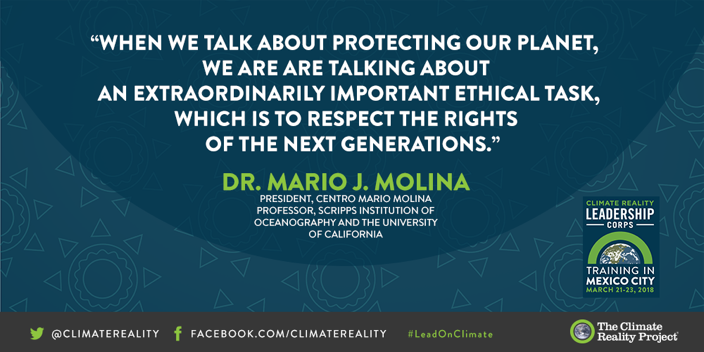 Trainees also picked up a wide range of practical skills that will help them act on climate change. Emmy-winning journalist Vanessa Hauc shared tips on how to tell compelling climate change stories. Jaime Nack, president of environmental consulting firm Three Squares Inc., taught trainees how to walk the walk and bring sustainability into their lives. Climate Reality Leaders Frida Diaz and Beatriz Marmolejo coached them on how to engage with decision-makers – something especially challenging if you are a young activist. And there was much more.
But at the end of the day, the sessions that attendees were most enthusiastic about were, no doubt, the ones led by former US Vice President and Climate Reality Founder Al Gore. Not only did Vice President Gore share his personal journey and motivations to get involved with the cause, but he also presented his famous slide show, featured in the movies An Inconvenient Truth and An Inconvenient Sequel: Truth to Power.
>>Read More: How Green Events Drive Change<<
"Vice President Al Gore´s message was precise, clear and blunt," said Mexico City resident Jimena Fernandez, as she looked back at the training. "There is hope, but we all need to be active in spreading the word and making impactful actions toward fighting climate change. We all have a responsibility to act and to reach out to as many people as possible and to lead by example."
Once the event ended, and the curtains closed, the trainees were ready to embrace their new roles.
But they will always count on a little help from their friends. Previously trained Climate Reality Leaders volunteer to guide new members in their journey both during and after the training.
Our Founder and Chairman Al Gore is showing our Climate Reality Leader trainees how to give their own presentations about climate change. #LeadOnClimate

Posted by Climate Reality on Friday, March 23, 2018

One of these mentors, Jatziri Pando, is hopeful for the new leaders. "Since day two, some of them already had planned their first Act of Leadership, and that was totally inspiring," she said. "In a few weeks, we'll have a meeting to talk about their Acts of Leadership and other activities that they are carrying out."
On our end, we are more than hopeful. We are certain that the future is bright in Mexico and beyond.
Are you interested in taking part in one of our trainings and joining our army of climate activists around the globe? Sign up to stay tuned about future Climate Reality Leadership Corps trainings. Join us! Because together we are stronger.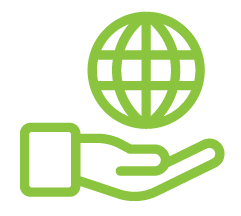 Before You Go
At Climate Reality, we work hard to create high-quality educational content like blogs, e-books, videos, and more to empower people all over the world to fight for climate solutions and stand together to drive the change we need. We are a nonprofit organization that believes there is hope in unity, and that together, we can build a safe, sustainable future.
But we can't do it without your help.
If you enjoyed what you've just read and would like to see more, please consider making a generous gift to support our ongoing work to fight climate denial and support solutions.