May 14, 2015 | 9:20 AM
Mexico Joins The Climate Reality Project's Road to Paris Campaign
Last month, The Climate Reality Project launched our Road to Paris campaign. Through this initiative, we're mobilizing international public support for world leaders to commit to reducing greenhouse gas emissions in the lead-up to the UN's climate negotiations in Paris this December. And already, several key countries have announced strong national commitments, setting the stage for action on a global scale and setting an example for others around the world.
One of these crucial players is Mexico. In March, Mexico became the first developing country to announce an intended nationally determined contribution (INDC) to reduce its global warming pollution, joining global efforts to create a strong emissions-reductions agreement in Paris. Under the terms of this INDC, the country will cut its greenhouse gas emissions by 22 percent and its black carbon (soot) by 51 percent below a calculated business-as-usual scenario by 2030.
With its INDC, the Mexican government has signaled its intent to be a leader on climate action – now it's up to the nation's citizens and organizations to support this bold leadership and strengthen the government's commitment to cutting emissions. Which is why we're proud to announce that Climate Reality will be on the ground with them every step of the way as The Climate Reality Project Mexico and Latin America.
Mexico already has a strong network of more than 300 Climate Reality Leaders, including 20 students under the age of 18 trained in Rio de Janeiro last November. Last week, nearly 200 people, including some of these Climate Reality Leaders, nonprofit representatives, university officials, and civil society influencers joined Climate Reality at a private event to celebrate the new Climate Reality Mexico and Latin America.
Momentum for action is already building: shortly after the event, our President and CEO Ken Berlin and Director of the Climate Reality Leadership Corps Mario E. Molina were invited to the Mexican Senate for a discussion about the Road to Paris. Joining them were Senators Silvia Guadalupe Garza Galván, Ana Lilia Herrera, and Luz María Beristain– three critical legislators pushing climate legislation in Mexico – as well as Beatriz Bugeda Bernal, director-general of policy on climate change at the Ministry of the Environment, and Roberto Dondisch Glowinski, director-general for global issues at the Ministry of Foreign Affairs and lead Mexican negotiator for the UN climate talks.
The discussion, which was nationally televised, centered on the country's INDC, the importance of the climate talks in Paris at the end of the year, and the role of Climate Reality Leaders and civil society in reaching our shared goal of a strong international agreement. As proof of that commitment, Senators Garza and Herrera have signed up to attend the upcoming Climate Reality Leadership Corps training in Miami in September and bring a delegation with them.
Even private corporations are getting on board: Banamex, one of the largest banks in Mexico, was eager to be part of the Road to Paris effort – committing resources to help Climate Reality's partner effort Live Earth: Road to Paris, an international day of action that will serve as a rallying point for countries around the world this fall.
Last month's meetings and the continued support of the Thomas Jefferson Institute – Climate Reality's partner organization in Mexico – were all critical factors in establishing Climate Reality Mexico and Latin America. We're excited to watch as they work to strengthen Mexico's INDC and leadership in addressing climate change, while supporting our Climate Reality Leader network in the country.
We know there's still a ways to go on the Road to Paris to get the global climate agreement we need. But with momentum building around the world and committed partners like our friends at Climate Reality Mexico and Latin America, we know we'll get there. And it promises to be quite a journey.
To learn more about how you can help create a strong agreement on emissions reduction at the UN's climate talks later this year, visit our Road to Paris page.
Photo: © 2014 hmerinomx/Flickr cc by-nc-sa 2.0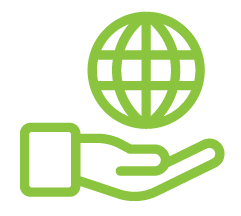 Before You Go
At Climate Reality, we work hard to create high-quality educational content like blogs, e-books, videos, and more to empower people all over the world to fight for climate solutions and stand together to drive the change we need. We are a nonprofit organization that believes there is hope in unity, and that together, we can build a safe, sustainable future.
But we can't do it without your help.
If you enjoyed what you've just read and would like to see more, please consider making a generous gift to support our ongoing work to fight climate denial and support solutions.