April 28, 2017 | 3:25 PM
Moab, Utah: How a Small Community is Making a Big Difference
Anyone who's lived in an outdoor town knows the climate crisis is more than just facts and numbers - it's a reality that's happening right outside our windows. We see it everywhere from hotter summers to low-snowfall seasons that killed at least 13,000 US jobs from 1999 to 2010 alone.
But there's a silver lining here. Because if outdoor towns are often the ones first hit by the crisis, they're increasingly also the ones stepping up to solve it, joining Climate Reality's 100% Committed campaign and committing to shift to 100-percent renewable electricity. Since fall 2016, Park City and Salt Lake City in Utah and Boulder and Aspen in Colorado are just a few of the communities to join the campaign and make the commitment.
But what if you're a smaller town without the population or resources of a place like Salt Lake City? Is shifting to renewable electricity even feasible?
The answer is a clear yes. The city of Moab, Utah—with a population of only 5,325 and a per capita income of $23,586 — recently committed to 100-percent renewable electricity by 2032. Moab may not have the financial resources of Aspen or Park City, but it shares the same commitment to preserving the environment.
To learn how Moab made the dream of going renewable into reality – and how your community – can do the same, read on.
STEP ONE: FIND YOUR PARTNERS

A movement often starts as just an idea. After Park City announced its commitment to going 100-percent renewable, people in Moab heard the story and got the idea that they could do it too. Because Moab's economy depends heavily on tourist traffic, the climate crisis threatens both the environment and economy of the city. According to Moab Council Member Kalen Jones, "rising temperatures, reduced water supplies, economic instability and other impacts to greatly limit activity for months at a time and quell the steady stream of mountain bikers, hikers, and other adventurers making the pilgrimage and fueling the city's economy."
Although they weren't initially sure they could commit to a high-scale transition like Park City, two interested city council members met with Climate Reality to discuss the campaign. They realized that going 100-percent renewable was 100-percent doable, especially with support from 100% Committed and the campaign's other Utah cities. Since Park City and Salt Lake City were already moving towards renewable electricity, they could help Moab along.
Another way this partnership paid off was in getting buy-in from the three cities' common utility, Rocky Mountain Power (RMP). Salt Lake City and Park City had already met with RMP, appealing to the utility's responsibility to its customers and highlighting the political support for going renewable. With a strong case coming from these major customers, RMP committed to help these cities make the transition. With this success as precedent, Moab was confident it could join negotiations and get RMP's help as well.
STEP TWO: MAKE A PLAN

Climate advocates in town already knew that renewable electricity was the right financial decision for Moab. With clean energy getting cheaper and cheaper every year, the city had the chance to save residents a lot of money over the long term. Plus, with Moab's economy so dependent on outdoor tourism, the threat of that sector disappearing with ever-rising temperatures was nothing less than existential for the city. Now, they just needed to make sure the community was on board too.
With the help of the 100% Committed team, renewable advocates created a plan to get all the key decision makers with them and make the campaign politically possible. Although two council members and the town manager were on board, they still needed to convince the rest of the city that going renewable was in their best interest.
Local advocates and the campaign team had both seen elsewhere how even well-designed and intentioned initiatives can fail without strong community support. And they knew that media stories of any failure in Moab could make towns far beyond Utah think twice and set the renewable electricity movement as a whole back.
They weren't going to let that happen. So advocates made a concerted effort to ensure that both city policymakers and the entire Moab community itself were on board. First, they met with individual city councilors and the mayor to pitch the idea of going renewable. Meanwhile, working with groups like Sierra Club, local activists went to community group meetings around the city, talking to people about switching to renewable electricity and what it would mean for them. Activists also reached out to community leaders to explain the process and get their help getting their constituents behind it.
For many in Moab, the choice was an easy one. But some in city council were worried about the city's lower-income residents and skeptical that the numbers could work. So the campaign brought in Luke Cartin, Park City's sustainability manager and a long-time expert in helping companies and communities cut emissions, to walk the council through the numbers and prove that Moab could do this affordably.
Cartin's professional advice was one factor in persuading the last council holdouts to ultimately go along. Another was the fact that while 100% Committed staff were organizing the campaign, locals were the ones really driving it. After advocates met with community groups and leaders early on, residents started appearing at council meetings to back the campaign. They also started writing letters to the editor in the paper. The message from the town itself was clear: Let's do this.
STEP THREE: SCHEDULE A VOTE

On January 11, Cartin and Salt Lake City Sustainability Program Manager Tyler Poulson joined a Moab city council meeting to present the proposal for going renewable. With roughly 50 community members in the room supporting the 100% Committed vision, advocates had enough momentum for a resolution and scheduled a vote for February 14.
In the next month, Moab and 100% Committed continued to work with Sierra Club and other local activists to build the movement. They managed to generate 50 letters of support to the council, critically including one from 20 local businesses. On the day of the vote, around 80 of the city's 5000-plus residents turned out to support the vote, the largest group of individuals supporting an initiative that city council had seen.
The punchline: it worked. The council voted unanimously to commit to 100-percent renewable electricity by 2030. When announcing the resolution, Moab Mayor Dave Sakrison said, "Moab's commitment for 100-percent renewable electricity is driven by our community's passion for our natural environment and a sustainable future."
NOW IT'S YOUR TURN

The idea of transitioning entirely to renewable electricity doesn't need to be overwhelming—it's entirely possible, even in a small community. And you can be the change you wish to see in your community. By partnering with our 100% Committed campaign, we'll help guide you through the process of going renewable and making a huge impact on a local level.
In joining 100% Committed, Moab joins a growing list of cities, colleges, businesses, and institutions stepping up and taking practical steps to cut emissions and help solve the climate crisis. Already, Boulder and Aspen in Colorado and Shandanken in New York have joined Park City, Salt Lake City, and now Moab in Utah. Colorado State University, Plymouth State University, Hampshire College, and the University of Wisconsin – Stevens Point have made the commitment. Bellayre, Gore Mountain, and Whiteface ski resorts in the US and LAAX and Arosa Lenzerheide in Switzerland have too. Companies like Ski Butlers and 22 Designs are getting on board too.
Sign up to learn more about going renewable, and stay up to date with all things 100% Committed.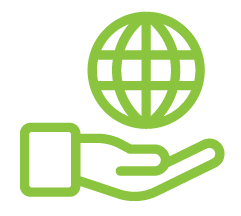 Before You Go
At Climate Reality, we work hard to create high-quality educational content like blogs, e-books, videos, and more to empower people all over the world to fight for climate solutions and stand together to drive the change we need. We are a nonprofit organization that believes there is hope in unity, and that together, we can build a safe, sustainable future.
But we can't do it without your help.
If you enjoyed what you've just read and would like to see more, please consider making a generous gift to support our ongoing work to fight climate denial and support solutions.