July 25, 2014 | 1:20 PM
From Mother to ClimateMama
Almost every climate activist has a story about the moment his or her perspective changed. Talk to many of our Climate Reality Leaders and you'll hear a story about the moment climate science went from a dry subject in textbooks to the feeling of floodwaters soaking through jeans or the sight of wildfires leaping from house to house. For Climate Reality Leaders, though, the story isn't just about putting two and two together, but what they did with this sum.
For Climate Reality Leader Harriet Shugarman, that moment was a while in coming, but not because she didn't know what was happening. Working as a policy analyst with the International Monetary Fund at the United Nations in the lead up to the 1992 Earth Summit, Harriet had a bird's-eye view of how the international community was tackling climate change. In the years that followed, she followed all the numerous committees and commissions that came out of the summit, watching as one set of talks led to another without ever leading to much progress. But while the facts were right in front of her, she wasn't inspired to connect them to her own life. After all, policy has a way of hiding faces behind numbers and devastation behind banal-sounding terms like "sea-level rise."
What ultimately changed her perspective and made her realize she had to do something wasn't seeing the big picture, but the smaller one in front of her every day. Two of them, in fact. Witnessing her children grow up and then seeing An Inconvenient Truth in the mid-2000s, she says, "I realized that the world my children were growing up in was never going to be as safe or secure as the one I grew up in… and it was in large part my generation's fault and now our opportunity and moment to correct."
Her first move was to fill in the gaps in her skills and climate knowledge, and in 2007, she attended one of the first Climate Reality Leadership Corps trainings. The training gave her the courage and the voice to speak up about what was happening, but just as important, it connected her to a network of then-individuals – and now friends – who shared her concerns and have become increasingly important collaborators in her outreach.
Coming home after the training, Harriet's first move was to step back from the global climate initiatives that had occupied her professional life and jump into local sustainability efforts in her own community. And when she jumped, she jumped in with both feet. What Harriet saw as she spoke to other parents and families was how few really understood what climate change meant. Especially what it meant for them and what they could do themselves.
This will not happen by itself. We have choices we have to consciously make.
Harriet knew from her own life that nothing goes deeper than a parent's love for his or her children. If love for her children and concern for what climate change was doing to their world had inspired her, she realized, the same emotions would inspire others. The problem was, there were few resources she could find that presented the issue from a parent's perspective. There were thousands of books and websites on baby names, sure, but very few that talked about raising children with sustainability and climate awareness as integral parts of their upbringing. Just as important, while there were countless mommy blogger and similar sites around the Internet, there were few places for climate-conscious parents to connect, share their knowledge and experience, and build a community of everyday activists.
Her response was to create ClimateMama: an online community for parents to learn more about the issue as well as how to talk about it with their children and – most important – learn what they can do. As the ClimateMama goal statement puts it:
"Climate Mamas and Papas recognize that climate change is real, here and now. We realize that we humans are causing our planet to change in ways which are not for the better, and which threaten our future, our planet, and our very existence. We have a unique opportunity at this moment in our human history, to become positive change agents on a planetary scale. This will not happen by itself. We have choices we have to consciously make." 
It was as if thousands and thousands of parents were just waiting for ClimateMama to come along. Since launching, the site has quickly become the hub for a vibrant community of families learning from each other and taking action together. Thanks in part to the success of ClimateMama and her training as a Climate Reality Leader, Harriet has become an increasingly prominent and active voice for climate solutions, speaking to thousands of people around the U.S. and emerging as a national spokesperson for parents on climate issues. Her writing regularly appears everywhere from national media outlets like Lifetime TV and MSNBC to hometown papers. She's also actively involved in educating younger generations directly, contributing to college textbooks and working on an undergraduate course on climate policy.  
Her work doesn't end with spreading awareness, though. Today Harriet is leading anti-fracking efforts on the ground in the New York region and continues to organize initiatives opposing the Keystone XL pipeline. In preparation for the People's Climate March in September, she's also now partnering with The Mother's Project to create a symposium on the impact of fossil fuels and climate change on children's health, bringing together policymakers, scientists, researchers, and parents to explore this vital but frequently overlooked aspect of the climate crisis.
Seeing what Harriet has done with her training inspires us here at Climate Reality, and this November, we're heading to Rio de Janeiro, Brazil to train hundreds of new Climate Reality Leaders.
Learn more about how you can apply to become a positive force for change like Harriet.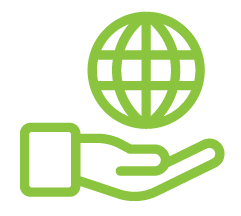 Before You Go
At Climate Reality, we work hard to create high-quality educational content like blogs, e-books, videos, and more to empower people all over the world to fight for climate solutions and stand together to drive the change we need. We are a nonprofit organization that believes there is hope in unity, and that together, we can build a safe, sustainable future.
But we can't do it without your help.
If you enjoyed what you've just read and would like to see more, please consider making a generous gift to support our ongoing work to fight climate denial and support solutions.