September 14, 2011 | 1:59 AM
A musical guide to Cape Verde
PHOTO: © Bobby Holland
During 24 Hours of Reality, we're showcasing diverse countries and cultures from around the world. And luckily, we'll be telling this global story with the help of a few musicians from Cape Verde.
Ramiro and Joao Mendes are a musical duo from the island nation off the West African coast that's one of the featured locations in 24 Hours of Reality. Since they immigrated to the United States in 1978, they've produced award-winning music that sends a humanitarian message across Africa and around the world.
The Mendes brothers will be featured in a panel discussion right after the Cape Verde presentation of 24 Hours of Reality. You can watch our live stream here on September 15 at 7 p.m. Cape Verde time and 4 p.m. Eastern Time.
A former Portuguese colony that was once an important way station in the African slave trade, Cape Verde sits at a crossroads of cultures. And this mix of influences is reflected in its music. "Cape Verde is a small country, but it has a very diverse music heritage," Joao Mendes told me. "We happened to come of age at a point when we had an opportunity to explore many traditional musical forms."
"It's a creole music -- Cape Verde being the birthplace of the creole culture," Ramiro Mendes added.
The Mendes brothers have been at it for a long time -- it's their 33rd year working together as musicians. They create "music with a message" that speaks to the urgent issues the world faces, Ramiro said. They've found an audience everywhere from Cape Verde itself, to the rest of Portuguese-speaking Africa, to a wider global public that's ready to hear their story.
The brothers told me they are glad to do their part to tell the world about climate change. Cape Verde, an extremely dry country, is already subject to prolonged droughts. That means "constant famine, unpredictable weather, unpredictable harvest," Joao told me. As the climate changes, such inhospitable weather could grow even worse.
"We use the music to keep reminding Cape Verdeans of the past," Joao said. "Promoting peace, promoting love, and making people aware of the fragility of the islands."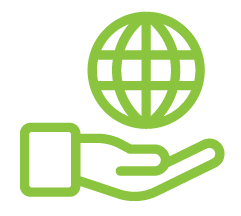 Before You Go
At Climate Reality, we work hard to create high-quality educational content like blogs, e-books, videos, and more to empower people all over the world to fight for climate solutions and stand together to drive the change we need. We are a nonprofit organization that believes there is hope in unity, and that together, we can build a safe, sustainable future.
But we can't do it without your help.
If you enjoyed what you've just read and would like to see more, please consider making a generous gift to support our ongoing work to fight climate denial and support solutions.