November 04, 2011 | 8:35 AM
One in 7 billion
The world's population hit 7 billion this week -- thanks to you, in part. What's your number?
And just as important: what's your carbon footprint? From a carbon emissions standpoint, it's not just the sheer number of us humans that counts. The carbon-intensity of our lifestyles is also a tremendous determinant of carbon emissions worldwide.
High levels of consumption in the U.S., for example, mean that Americans - just 5% of the global population - are responsible for 18% of the world's carbon emissions annually (about 18 tons per person). India, in contrast, makes up 17% of the world population but emits 5% of annual carbon pollution (approximately 1.5 tons per person). China holds 20% of the word's population and is responsible for a quarter of emissions (just under 6 tons per person).
Population projections may be "the backbone" of carbon pollution emission scenarios, as the Intergovernmental Panel on Climate Change explains. But consumption levels are the muscles that will give those future scenarios shape. Both the way in which population changes and development occurs will greatly affect our climate. Development and growth in the world's emerging economies doesn't have to occur at the expense of the global climate if it's done right.
7 billion is a milestone. And milestones are good for taking a minute to consider from where you've come and where you are going. Will we invest in the technologies and policies that will help the developing world grow in the most low-carbon way possible? Will those of us in the developed world act to reduce our carbon footprints?
#4,823,450,783 sure hopes so. If you're with me, add your number to the comment stream below!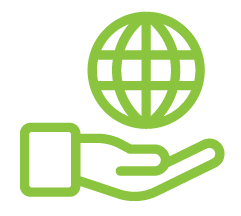 Before You Go
At Climate Reality, we work hard to create high-quality educational content like blogs, e-books, videos, and more to empower people all over the world to fight for climate solutions and stand together to drive the change we need. We are a nonprofit organization that believes there is hope in unity, and that together, we can build a safe, sustainable future.
But we can't do it without your help.
If you enjoyed what you've just read and would like to see more, please consider making a generous gift to support our ongoing work to fight climate denial and support solutions.