September 23, 2016 | 12:00 PM
Our Planet's Future Depends on Your Vote. (No Pressure.)
Let's face it: every US election is important. But this year's election will shape not only our future as Americans, but the future of our entire planet and its citizens.
But with the stakes higher than ever, is there any hope for a healthier, more sustainable future?
Fortunately, yes! Here are three goals Americans agree on – and we need our leaders to support.    
1. Expanding Clean Energy
 

Renewable energy is safer than dirty fossil fuels, better for the climate, and more affordable every day. So it's not surprising to hear that 73 percent of Americans now support expanding alternative energies like solar and wind power. In fact, many cities and towns across America are already going 100 percent renewable – including Georgetown, TX.
Georgetown's choice isn't about partisanship. As Mayor Dale Ross says, "We make decisions … based on what's best for our citizens. We put to the side national politics… This was good for the city, not only in the first year but in year 25."
If a town smack in the middle of oil country can do it, why can't communities everywhere? The truth is, we need the right leadership to bring clean energy to every part of the country.
2. Creating More Green Jobs
 

Green Energy = Green Jobs. It's as simple as that!

Posted by Climate Reality on Thursday, June 9, 2016
Green jobs are already taking off in a big way. The US Department of Labor projects wind energy jobs will increase by 108 percent over the next 10 years. As one indicator, "wind technician" is projected to become the fastest-growing profession in America! Combine this with the fact that the US solar industry created jobs 12 times faster than the rest of the economy in 2015 and we've got a sunny outlook for the clean energy sector.
Expanding clean energy, however, offers dividends far greater than just a paycheck. Reducing carbon pollution fights climate change – and that means a healthier environment for all of us, reduced risk of extreme weather, and protecting our planet and its inhabitants for generations to come.
More than three-quarters of Americans believe the next president should prioritize increasing renewable energy. Imagine how many more Americans we could put to work – and how much more carbon pollution we could reduce – if more leaders focused on growing green jobs.
3. Ensuring a Healthy, Sustainable Future for All of Us
 

Supporting leaders who speak for all Americans, rather than for a few corporate interests – it's the principle at the heart of our democracy. But it only works when we head to the polls.
There are some 45 million-plus eligible young voters and if we want our leaders to create a healthy, sustainable future for all Americans, we have to vote.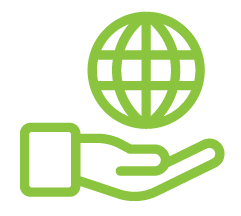 Before You Go
At Climate Reality, we work hard to create high-quality educational content like blogs, e-books, videos, and more to empower people all over the world to fight for climate solutions and stand together to drive the change we need. We are a nonprofit organization that believes there is hope in unity, and that together, we can build a safe, sustainable future.
But we can't do it without your help.
If you enjoyed what you've just read and would like to see more, please consider making a generous gift to support our ongoing work to fight climate denial and support solutions.