December 23, 2015 | 6:00 AM
Our Top Blog Posts of 2015
As we look back at the climate action around the world in 2015, we can't help but smile. And with some of the most important progress in the fight against climate change ever made happening in these past 12 months– including a major global climate agreement to reduce greenhouse gas emissions – 2015 truly felt like a turning point.
We've seen it all over the last year – the ups, the downs, the wins, and the losses. So we're going down memory lane with a look back at some of our most popular posts of 2015. Enjoy!
Ten Clear Indicators Our Climate is Changing
How do we know our climate is changing permanently, rather than just going through normal variations? With misinformation campaigns from climate deniers, the fossil fuel industry, and special interest groups spreading myths throughout the media, it can be hard to understand what the real causes of climate change are and the science behind these changes.
The trend scientists have seen with our climate over the past 50 years is unmistakable. In this post, we focus on 10 major changes scientists have seen in our climate system. Read the full post here.
This Is a Turning Point: Three Things You Need to Know About the Paris Agreement  
After two weeks of intense negotiations this December at the UN's COP 21 climate talks, world leaders negotiated a global climate deal to cut greenhouse gas emissions. A big, big deal. While there's still work to be done to ensure leaders live up to their commitments, this first step sends a clear signal to markets and investors that the future of energy is in renewables like wind and solar.
Analysts will continue working to digest the agreement's full implications and how the world will move ahead, but a few major points stand out in the weeks after Paris. Find out the three key pieces you need to know about the Paris agreement in this blog post.
The Truth about the Price of Solar Energy
Ever heard someone say that solar energy is too expensive to be affordable? We've heard this commonplace myth and other similar ones about renewable energy time and time again – and we're here to tell you they just aren't true.
The truth is the price of solar energy has dropped significantly in the last seven years, and many scientists predict it will continue to decrease. The result is that in many regions around the world and parts of the US, electricity from solar is as cheap – or even cheaper – than electricity from coal, oil, or natural gas. Read the full post to learn more.
Telling the Story: Eight Great Infographics on Climate Change
Climate change is often a story told by scientists, and it can get buried in technical or wonky jargon. But it's also a reality felt by many, so how do you tell this important story in a way that sticks? To help break down the complex subject matter of climate change, we pulled together eight fun infographics from around the web in this blog post.
Ice, Ice Baby: Is Antarctica Ice Melting or Growing? 
New research claims the ice in Antarctica has actually been growing, rather than shrinking over the past two decades. So were NASA and the IPCC wrong about Antarctica's ice loss? Find out what's really going on with the polar ice caps, including the story behind these recent studies. Click here to read more. 
These Five Videos Explain What You Need to Know About COP 21
The UN's COP 21 climate talks may have been the biggest climate change story of 2015. After almost two weeks of negotiations, world leaders reached a strong global agreement with commitments from 186 countries to reduce greenhouse gas emissions.
There were a lot of questions leading up to COP 21 about who the key players were, what possible outcomes might be, why should we care about it, and why this time would be different than past conferences. So to help clear up some of the most common questions, we found five videos from around the web that each give a different take on the conference. Watch all five videos here.
Eight TED Talks to Understand Climate Change
With an issue as big as climate change, there's a lot to know and a lot of information floating around the Internet. And we're going to be honest: it can seem a little overwhelming at first.
So if you're trying to get a handle on everything from the latest climate science to breakthroughs in solutions to the universe of acronyms from the EPA to UNFCCC, where do you start? To get a better understanding of what's what, we turned to several smart people working in the climate change space. In this post, we compiled eight TED Talks from people who know a lot about climate change to give you an overview of what's happening to our planet and what we can do to solve it.
Canada Drops the Ball on Climate
Earlier this year Canada made a commitment to reduce its greenhouse gas emissions by 30 percent from 2005 levels by 2030. This seems like a bold step forward, right? Wrong.
Canada's commitment put the country on a path for a 23.5 percent reduction by 2025 – far less than other developed nations around the world are making. Canada also pledged to reduce greenhouse gas emissions more slowly than others – 60 percent slower than the EU and US over the same time period. This is just the tip of the iceberg. Read the full post to find out the whole story behind Canada's weak commitment.
The 10 Questions Every Climate Activist Hears and What to Say 
We've all been there. The eggnog gets spiked at the holiday party and the climate denier questions start up. From "You know it's freezing outside, right?" and "But not even scientists agree, right?", we've covered the most common questions from climate deniers in this blog post – and how to shut them down. Read the full post or download the free e-book here.
We Stand with Pope Francis on Climate Action
This September, Pope Francis made headlines during his visit to several major US cities. The reason he visited was to address US leaders about a number of critical world issues, one of which was climate change.
In this post, The Climate Reality Project's President and CEO Ken Berlin stands with Pope Francis in acknowledging that climate change is the moral challenge of our time and letting world leaders know that we have an obligation to take action.
Want to read more great content from Climate Reality? Sign up here to receive the latest updates and stories from the global movement for climate solutions.
© 2013 Nicolas Raymond/Flickr cc by 2.0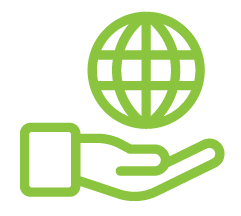 Before You Go
At Climate Reality, we work hard to create high-quality educational content like blogs, e-books, videos, and more to empower people all over the world to fight for climate solutions and stand together to drive the change we need. We are a nonprofit organization that believes there is hope in unity, and that together, we can build a safe, sustainable future.
But we can't do it without your help.
If you enjoyed what you've just read and would like to see more, please consider making a generous gift to support our ongoing work to fight climate denial and support solutions.