December 30, 2014 | 6:48 PM
Our Year in Climate Action
The US and China Agree to Address Emissions

It's hard to overstate the importance of this one. The world's two biggest economies – and biggest carbon polluters – surprised the world in November by announcing a joint agreement to tackle climate change. Under the terms of the agreement, the US will bring its emissions 26—28 percent below 2005 levels by 2025. China, meanwhile, will peak its own emissions by 2030 and target a closer date. The deal leaves a number of practical issues still to be resolved – like how exactly China will meet this goal in the not-too-distant future while still building coal-fired power plants today – but as a statement of intent from the planet's two most influential actors, the message was unmistakable: it's time to get serious.
The World Agrees to Tackle Climate Change

If the US-China agreement got the emissions-reduction ball rolling in November, in December, momentum carried it down to Lima where negotiators were drafting the framework for a global climate deal in Paris next year. It took an extra day and a half of talks to seal the deal as historical conflicts between developed and developing nations continued, but in the end all 196 participating countries agreed to address carbon emissions for the first time in human history.
Just in case that last part didn't quite sink in the first time, it's worth repeating: all 196 participating countries agreed to address carbon emissions for the first time in human history. As always, the devil's in the details and yes the agreement is imperfect. Yes, it leaves a lot of work to do and questions to answer before next December's COP21 meeting in Paris, particularly in the area of financial support for developing nations. But was it a vital first step on the road to Paris? In a word, yes.
Climate Action Takes Manhattan – and the Rest of New York

As a general rule, New York City doesn't do low-key. So when activists from around the US headed to the city in September, the impacts were as immediately visible as the Empire State Building and striking as a Bronx accent. The global broadcast of 24 Hours of Reality: 24 Reasons for Hope got things going on September 16—17, with iconic names like Ian Somerhalder, Mark Ruffalo, and Maggie Grace highlighting the global progress in the fight for a sustainable future and inspiring over 200,000 people to dedicate a day to climate action.
A few days later, over 400,000 activists flooded city streets for the People's Climate March, joining millions across the planet in demanding real action on climate change. So when world leaders met for the first-ever UN Climate Summit on September 23, their mandate was clear. And just in case there was any doubt, a group of young teenage activists put things into perspective, asking leaders at the summit one simple question about climate action: "Why not now?"
Climate Change Goes Primetime

It's no secret that one of the best ways to check the barometer of changing cultural opinion is to turn on the television. And if you turned on the television in 2014, chances were pretty good you could stumble onto one program or another talking about climate change. From John Oliver's soon-to-be-legendary denier takedown to Neil deGrasse Tyson's climate science in a beach walk nutshell to Showtime's epic Years of Living Dangerously series with Hollywood's A-List, the discussion this year got funny, got smart, got very, very personal, and got people talking. Let's hope it continues in 2015.
US Steps Up

Here in the US, we've become somewhat used to being the public pariahs of global climate action, after Congress failed to ratify the Kyoto Protocol back in the 90s and cap-and-trade legislation died in the Senate in 2009. And while subsequent government initiatives to raise energy efficiency and boost fuel economy have already made significant dents in domestic emissions, the label has – by and large – stuck in the international community.
That all changed this year, when the US Environmental Protection Agency (EPA) proposed the Clean Power Plan to limit emissions from the power plants producing some 40 percent of the nation's carbon pollution. Critically, it wasn't only the government taking action as over 1 million Americans submitted comments supporting the measure over the course of the year. The plan will be a major component of US efforts to accelerate emissions cuts as part of the landmark agreement with China. Already, fossil fuel companies and their friends in Congress have announced their intention to fight the proposal – and fight hard – meaning that if anything, the fight is just beginning on the home front. Even still, as part of the China deal, the plan told the world in no uncertain terms that when it comes to fighting climate change, the US is finally back and ready to lead.
Business Trends Favor Climate Action

The US-China climate deal is also a giant boost for clean-energy markets. Having the world's two largest economies competing to accelerate the adoption of no-carbon and low-carbon technologies will send one of the most powerful market signals we've ever seen.
The US added more solar capacity in the past two years than in the previous 30 years combined. A host of companies and even whole industries are providing the goods and services that deliver cleaner, more efficient power to consumers.
In Nevada, Tesla is building the world's largest advanced automotive-battery factory. In New York, Solar City is building a massive solar-photovoltaic factory.
Meanwhile, market leaders such as Google and Walmart are making huge investments in renewable energy and energy efficiency. Amazon recently announced its plan to shift to 100 percent renewable energy for its cloud computing and other divisions. The clean energy future is now – making it easier for nations to commit to real emissions reduction.
Now it's time to turn up the volume.

With the prospect of a historic agreement in Paris just on the horizon, we need your help to train even more messengers, reach even more people across every continent, and together shout even louder so world leaders have to face the music and act.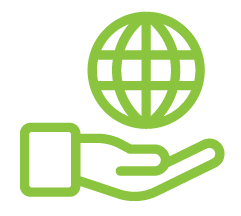 Before You Go
At Climate Reality, we work hard to create high-quality educational content like blogs, e-books, videos, and more to empower people all over the world to fight for climate solutions and stand together to drive the change we need. We are a nonprofit organization that believes there is hope in unity, and that together, we can build a safe, sustainable future.
But we can't do it without your help.
If you enjoyed what you've just read and would like to see more, please consider making a generous gift to support our ongoing work to fight climate denial and support solutions.