October 05, 2016 | 1:16 PM
The Paris Agreement Enters into Force – Now What!
The Paris Agreement is officially a done deal.
Let us repeat that: the Paris Agreement is officially a done deal.
On October 5, several member states of the European Union crossed the last procedural hurdle to joining the agreement, and it's now ready to enter into force. Which means that 24 years after the Rio Earth Summit galvanized the international community on the issue in 1992 – and created the United Nations Framework Convention on Climate Change (UNFCCC) – we finally have the world's first truly global climate agreement ready to go.
Let that sink in for a moment.
In procedural terms, the EU's step was significant because for the agreement to go into effect, 55 countries representing at least 55 percent of global greenhouse gas emissions had to join. The EU member states coming on board crossed that threshold – 73 parties have now ratified or otherwise formally approved the agreement, representing almost 57 percent of global emissions.
The agreement officially enters into force in 30 days, on November 4, just in time for the next UNFCCC meeting in Marrakesh, Morocco, from November 7—18. The timing means this meeting will also serve as the first session of the "Conference of the Parties serving as the meeting of the Parties to the Paris Agreement" (known in official circles as "CMA 1") where the proverbial rubber hits the road and countries start talking about how to actually implement the agreement in practical terms.
So, what now? We're glad you asked.
What exactly does "entry into force" even mean?

At its simplest, entry into force means that the compulsory elements of the agreement become binding on the parties who have joined. It also means the voluntary elements – or let's say strongly encouraged elements – are also triggered into motion.
The most important of these is the requirement that the parties to the agreement – i.e. those same countries that have domestically approved it and got us to this point – submit the climate actions that they plan to pursue, known as nationally determined contributions (NDCs).  Countries now have to start taking action at home to achieve their NDC objectives. Exactly what each individual country does is up to its own government, but each must submit a new NDC every five years to ensure the planet stays on track to control rising temperatures.
 

Didn't this all happen very fast?

In a word, yes. So quickly, in fact, that it's one of the fastest timelines we've ever seen for an international agreement to enter into force.
Three factors played a particularly significant role in the speed of this process. First, the climate movement became a truly global – and truly vocal – force with the power and numbers to push leaders to act in ways we've never seen before. At Climate Reality, we saw this in the lead up to Paris when we worked with our partners across the movement  to unite over 6.2 million people in calling on world leaders to reach a strong agreement. It started a ball rolling that's only continued to pick up speed since.
Second, the urgency of action. With 14 of the 15 hottest years on record coming this century – and 2016 on course to become the hottest yet – it's clear that our climate is changing right here, right now and national leaders increasingly recognize that inaction is not an option. With the threat so apparent, leaders from different sides of the developing-developed nation divide were more and more willing to work together to bridge their differences. Plus, in designing the Paris Agreement, negotiators were careful to ensure the final text reflected and respected the different perspectives of countries all along the economic and development spectrum, from vulnerable states to fossil-fuel dependent countries .
Third, the power of momentum (and a little bit of social pressure). When negotiators reached the Paris Agreement last December, no one expected it would enter into force this quickly. But then UN Secretary-General Ban Ki-moon decided to keep the pressure on world leaders with a well-publicized signing ceremony on Earth Day and got over 170 nations to attend and sign. Countries began formally approving the agreement – including the world's two biggest economies, the US and China – and by September, the first threshold (55 nations) had been crossed. The second (55 percent of emissions) was in sight and all of a sudden, the EU had the choice to either fast track ratification or lose its seat at the decision-making table at what would be CMA 1.
What needs to be decided at CMA 1?

While there is much to do, the key decisions in Marrakesh will deal with setting up a basic framework so countries can determine their contributions, timelines, and accountability in meeting the agreement's long-term goals of holding global average temperature rise to well-below 2 degrees Celsius (and working for 1.5 degrees) and achieving net-zero greenhouse gas emissions in the second half of this century.
For all intents and purposes, excellent progress will have been made if the parties make significant progress on:
Mitigation, specifically working on guidance and features of NDCs.
Establishing the rules for a transparency framework for action and support (basically, a new system for reporting data on emissions, the finances a country provides, etc.).
Deciding how the progress review (called the "global stocktake") will be conducted.
Determining the procedures for a pre-2020 progress review (the "facilitative dialogue").
Nations hadn't counted on CMA 1 happening in 2016, and there's still a lot of work to do to set up the rules, procedures, and framework for implementing the Paris Agreement. These rules were meant to be finished by CMA 1, so luckily countries can, and likely will, suspend CMA 1 so that it continues for a few negotiation sessions.
"For the first time in human history, the planet has not only the framework to reduce global carbon emissions, but also the instruments to ensure countries achieve their climate action commitments," Climate Reality President and CEO Ken Berlin said of the agreement's impending entry into force. "The Paris Agreement is a shining example of what can be achieved when leaders, activists, and citizens across the world listen to and cooperate with each other in peace and with a positive vision for the future."
What happens next?

It's taken decades to get here, but finally, we have the global agreement to stop climate change and the international consensus to do it. We saw the incredible power of citizen voices when the world came together to push our leaders to reach a strong agreement. Now it's up to us to make sure they live up to their words.
It's time for our leaders to honor – and strengthen – their commitments to climate action in the Paris Agreement. It's time to drop dirty fossil fuels and power our lives and economies with affordable clean energy. A bright, sustainable future for our planet is finally in sight – now, it's time to make it a reality.
Sign below to say,
"I Pledge to Support Leaders Who Make Climate Solutions a Reality."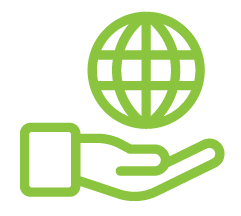 Before You Go
At Climate Reality, we work hard to create high-quality educational content like blogs, e-books, videos, and more to empower people all over the world to fight for climate solutions and stand together to drive the change we need. We are a nonprofit organization that believes there is hope in unity, and that together, we can build a safe, sustainable future.
But we can't do it without your help.
If you enjoyed what you've just read and would like to see more, please consider making a generous gift to support our ongoing work to fight climate denial and support solutions.