March 29, 2012 | 10:37 AM
Paying twice for the climate crisis
© 2008 Flickr/Libelul CC by 2.0

Were you watching C-SPAN around noon today? I know it doesn't sound like riveting television, but something happened - or rather didn't happen - that affects all of us and our planet's climate. If you were watching, you saw the U.S. Senate vote to continue handing out $24 billion in tax breaks to oil companies. Clearly, the industry doesn't need it: last year the top five oil companies pulled in record profits of $137 billion. Despite the howls from the industry, it is in fact not already over-taxed: Exxon's effective tax rate in 2011 was 13%. How did this happen? The oil & gas industry donated over $20 million to Congress last year, and spent almost $150 million lobbying our leaders in the House and Senate to follow their agenda. A recent report found that every time the price at the pump goes up a cent, oil company profits rise by $200 million per quarter. So during this time of high gas prices, we're paying oil companies once with our tax dollars through these subsidies, and again at the pump.
© 2009 Flickr/Mike Baird CC by 2.0

What do the oil companies do with the money that we pay them twice? They pollute our air and make climate change worse. A new study from Germany's Potsdam Institute for Climate Research found that "it is very likely that several of the unprecedented extremes of the past decade would not have occurred without anthropogenic global warming." This means that according to the study, many of the heavy rainstorms, heat waves, and other extreme weather events wouldn't have occurred in the last decade in the absence of climate change. We know the solution: Reduce the carbon pollution that is changing our climate. And much of that pollution comes from the same oil companies that claim they deserve subsidies. According to the International Energy Agency's chief economist, eliminating all fossil fuel subsidies worldwide (for oil, coal and other carbon-polluting fuels) brings us halfway to a global carbon target limiting global warming to 2 degrees. What do you think it will take for our leaders to finally turn off the billion-dollar spigot to oil companies?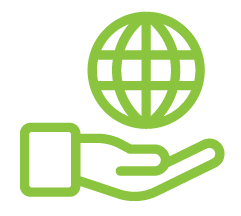 Before You Go
At Climate Reality, we work hard to create high-quality educational content like blogs, e-books, videos, and more to empower people all over the world to fight for climate solutions and stand together to drive the change we need. We are a nonprofit organization that believes there is hope in unity, and that together, we can build a safe, sustainable future.
But we can't do it without your help.
If you enjoyed what you've just read and would like to see more, please consider making a generous gift to support our ongoing work to fight climate denial and support solutions.