November 07, 2011 | 9:06 PM
People power v. pipeline: Whose voice will carry to the White House?
Yesterday, we witnessed thousands take part in one of the biggest environmental protests of the decade. What got so many people outraged enough to leave their homes on a Sunday afternoon and circle the White House? The Keystone XL Pipeline, a dangerously misguided project that could bring extremely dirty tar sands oil from Canada to oil refineries in the Gulf of Mexico, and irreversibly accelerate climate change in the process. The pipeline is a desperate means to feed our oil addiction, but yesterday's protest was a promising sign that the addiction may finally be waning. Protesters from many different parts of the country, of all ages, backgrounds and cultures, hope that the U.S. government heard these demands and will rise to the occasion and stop the pipeline from being built.
Here are some personal impressions from three Climate Reality staffers who were there.
Eric: "I have not attended too many protests in my lifetime but I decided to check out the Keystone XL protest because according to NASA scientist James Hansen, it is 'game over' for our climate if this pipeline gets built. This was too important to miss. I was also impressed by the protest in front of the White House this summer when committed activists got arrested to protest Keystone XL. I was curious to see how the second act would turn out. It was better than expected. I was inspired by what I saw and participated in at this protest. Around 10,000 people showed up and you could feel the energy. There were enough people to wrap around the White House almost 3 times. That is an amazing turnout and a clear sign that a lot of people are watching this very closely. I was proud to have participated."
Kristin: "A friend of mine remarked that usually, crowd size is used to measure a protest's success. Heads are hard to count in a big crowd, and in the end, sources (namely the police and the sponsoring organization) never seem to agree on just how many people turned out. But at the Keystone XL action, our idea of success was clear: link hands and encircle the White House grounds so that there'd be no overlooking -- not from any vantage point in the White House - our message: No Keystone XL! At 3:42 PM, #NOKXL sent out a text confirming that we had achieved our goal. We had formed not only one circle, but concentric circles, around the White House."
Shravya: "It was inspiring to see that the spirit of solidarity is alive and well in America, and that people are not willing to let the administration gamble with their futures by ignoring the pressing threat of climate change. I thought it was serendipitous that it was such a beautiful, sunny day -- a reminder that we can have safe, secure and prosperous future by relying on clean energy solutions, like solar power."
Were you there too? Did you follow the protest on TV or online? We'd love to hear your impressions!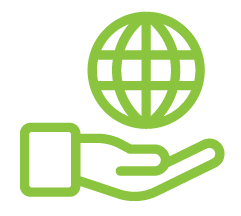 Before You Go
At Climate Reality, we work hard to create high-quality educational content like blogs, e-books, videos, and more to empower people all over the world to fight for climate solutions and stand together to drive the change we need. We are a nonprofit organization that believes there is hope in unity, and that together, we can build a safe, sustainable future.
But we can't do it without your help.
If you enjoyed what you've just read and would like to see more, please consider making a generous gift to support our ongoing work to fight climate denial and support solutions.