December 16, 2011 | 1:57 PM
From the pews: Facing the reality of climate change
© 2010 Flickr/ShellyS CC BY-NC-SA 2.0
Katharine Hayhoe is an evangelical Christian climate scientist who, when asked whether she "believes" in climate change, answers "no."
Don't get Hayhoe wrong: She's convinced that climate change is happening and that humans are causing it, like the vast majority of other climate scientists. She just doesn't like talking about something like climate science in terms of "belief."
"Belief" is for God and, for some at this time of year, Santa. It's about faith and "the evidence of things not seen." With climate change, we've seen the evidence. We know the facts. We've analyzed the data using "the brains that God gave us," as Hayhoe has said. She both believes in God and accepts the reality of climate change. And she isn't alone.
A national public opinion poll administered by researchers at the University of Maryland recently found that three out of four Christians think it's important to address climate change. Moreover, majorities (72% of Evangelicals and 83% of Catholics) are in favor of an international agreement that would reduce carbon pollution.
This research, as one of the study co-authors points out, "challenges common political stereotypes" and demonstrates "the public's strong moral impulse to address global policy challenges -- an impulse that, if applied properly, could break the current impasse on these issues."
So could reframing climate change as a moral rather than a political issue help move discussion forward in the U.S.?
It's an interesting idea -- and certainly the one behind the new Climate Ethics Campaign, which, as its name suggests, aims to make U.S. leaders see that they have an ethical responsibility to address climate change. Just earlier this month, the campaign issued a statement explaining how neglecting to address the climate problem is shirking the moral obligations to:
Prevent suffering and protect human life;
Protect the processes that make life possible.
The statement has ignited the moral courage of many religious leaders. The leaders of evangelical networks and alliances have added their signatures to the document, next to those of Catholic ministers, sisters from several orders, and Presbyterian reverends.
But "believers" aren't the only ones who signed. So did over 1,200 others from a diverse range of businesses and advocacy organizations. If you're compelled by the statement's message, you, too, can sign online.
I've tried, in this post, to steer clear of sharing my personal beliefs on both religion and Santa (wink!). But I can't close without divulging one belief that I, and my colleagues at The Climate Reality Project, all share. We can work together, with a sense of urgency, to solve this climate crisis. If you're with us, leave a comment (or even just an "Amen!") below.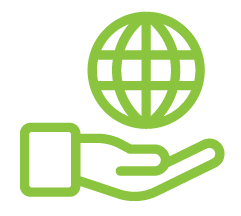 Before You Go
At Climate Reality, we work hard to create high-quality educational content like blogs, e-books, videos, and more to empower people all over the world to fight for climate solutions and stand together to drive the change we need. We are a nonprofit organization that believes there is hope in unity, and that together, we can build a safe, sustainable future.
But we can't do it without your help.
If you enjoyed what you've just read and would like to see more, please consider making a generous gift to support our ongoing work to fight climate denial and support solutions.