November 07, 2016 | 10:04 AM
Pop Quiz! Put Your Climate Knowledge to the Test
The Quiz: Carbon Dioxide and Climate Change

The Cheat Sheet:

While methane and other greenhouse gases certainly contribute to climate change, carbon dioxide is public enemy number one. Most carbon dioxide in our atmosphere comes from humans burning fossil fuels like coal, natural gas, and oil — but animal agriculture, deforestation, and soil erosion also contribute.
Greenhouse gases trap heat in our atmosphere in a process known as the greenhouse effect. The greenhouse effect is a good thing; it's what keeps our planet at a habitable temperature. But since the start of the Industrial Revolution, carbon pollution levels have skyrocketed from about 280 ppm (parts per million) to 400 ppm due to human activity. That's well beyond natural levels, and it's behind the warming we see today. Carbon dioxide in our atmosphere fluctuates over time, but scientists believe that we will not see levels below 400 ppm again in our lifetimes.
Research also shows that our oceans and forests are incredible carbon sinks (meaning they take up and store a large percentage of our emissions). By removing CO2 from the atmosphere, carbon sinks delay some of the consequences of burning fossil fuels. But we can't rely on these natural sinks forever. Our oceans are becoming more acidic as the carbon dioxide it stores binds with water to create carbonic acid. And, according to the World Wildlife Foundation, "some 46,000 - 58,000 square miles of forest are lost each year—equivalent to 48 football fields every minute."
The Quiz: Clean Energy and Climate Solutions

The Cheat Sheet:

Alright, so we know climate change is a big deal and it's impacting our lives today. But what should give you hope is the fact that we have solutions available right now.
More people that ever are employed by the clean energy sector —  8.1 million, actually (according to 2015 data from REN21). The industry is booming! It doesn't hurt that about half a million solar panels were installed every day in 2015. But Big Polluters try to sell the public myths about clean energy all the time: it's too expensive, it isn't reliable, or it's unnecessary because we have fuels like natural gas.
Despite its benevolent-sounding name, natural gas is a dirty, dangerous fossil fuel. It's primarily made up of methane, a highly flammable and potent greenhouse gas. Did you hear about the massive 2015 natural gas leak in California? Surrounding communities had to be evacuated, people reported bloody noses and respiratory problems, and, at one point, the leak was the single greatest contributor to climate change in the entire state of California.
We need to abandon natural gas and other dirty fossil fuels. Clean energy just makes sense for our health and our climate — but it also makes sense for our bank accounts. With the cost of wind and solar continuing to plummet – just look at how the cost of solar panels fell 80 percent between 2009 and 2016 – energy from renewables costs about the same or less than energy from fossil fuels in more and more regions around the world. Which makes it possible for powerhouse nations like German and Denmark to generate huge portions of their electricity from solar and wind and grow very healthy economies.
The Quiz: Paris Agreement and Climate Change

The Cheat Sheet:

Last year at the UN's COP 21 conference ("COP 21" stands for "the 21st Conference of the Parties," by the way), 195 nations came together and agreed on a landmark global climate agreement. These nations agreed to work together to keep warming under 2 degrees Celsius, while pursuing efforts to keep it under 1.5 degrees Celsius. And, in what is one of the fastest timelines for an international agreement to enter into force, the Paris Agreement officially did just that on November 4, 2016 — less than a year after COP 21.
And it's just in time for nations to reconvene for COP 22 in Marrakech, Morocco and turn promises into action. We can't just talk about climate solutions; we have to make them a reality.
Wondering what you can do? On December 5-6, tune in to 24 Hours of Reality: The Road Forward with former US Vice President Al Gore and learn more about climate impacts and climate solutions in your region. We're telling inspiring stories of progress from around the world, and demanding that world leaders make good on the promises they made in Paris.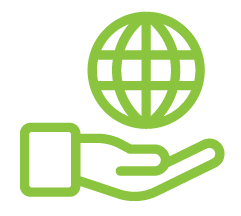 Before You Go
At Climate Reality, we work hard to create high-quality educational content like blogs, e-books, videos, and more to empower people all over the world to fight for climate solutions and stand together to drive the change we need. We are a nonprofit organization that believes there is hope in unity, and that together, we can build a safe, sustainable future.
But we can't do it without your help.
If you enjoyed what you've just read and would like to see more, please consider making a generous gift to support our ongoing work to fight climate denial and support solutions.