September 25, 2015 | 9:30 AM
Pope Francis to US Leaders: We Have a Moral Imperative to Act on Climate
This week, Pope Francis made his way to Capitol Hill in Washington, DC to address Congress on some of the most pressing issues the world is facing today, including climate change, the environment, poverty, and the world economy. The pope's visit comes just three months after he released his landmark encyclical about the interrelation of the economy and the environment. This makes Pope Francis' US visit particularly timely, especially as the world gears up for historic  climate negotiations in Paris beginning in November.
It's time to take a stand for our planet's future and for those impacted by climate change everywhere #PopeinUSA pic.twitter.com/S36g7aPkj1

— Climate Reality (@ClimateReality) September 23, 2015
Pope Francis has earned a reputation for speaking directly since he took the papal office over two years ago, and this was evident in his recent environmental messages in the encyclical and during his travels to meet with world leaders. In the encyclical and his everyday teachings, Pope Francis emphasizes that if we want to solve climate change and reduce poverty, we need to address both issues at the same time. By following our moral compass and pursuing a more sustainable way of life, we can help the poor and create a healthy, prosperous world for future generations.
The pope's statements on his visit to the US this week echoed these messages. Let's take a closer look at a couple of the central themes.
Don't sacrifice the environment to grow our economies 

Along the same lines, Pope Francis urges that we shouldn't sacrifice the livelihoods of people around the world or put our environment at risk to grow our economies. Which is just what the fossil fuel industry has been doing for decades.
Pope Francis knows the political conflicts around climate change in the US are exacerbated in part by the influence and power of many fossil fuel companies and special interest groups. The pope's key message here is that we shouldn't allow money or power to be the moral compass by which we direct our economic and developmental efforts.
Instead, he emphasizes growing economies through clean energy and new technologies. When addressing Congress yesterday, the pope stated, "[T]he right use of natural resources, the proper application of technology and the harnessing of the spirit of enterprise are essential elements of an economy which seeks to be modern, inclusive and sustainable."
We should be leading moral lives above all else

Pope Francis continues to emphasize the importance of incorporating morality into all aspects of our lives, including how we govern and run our economies. He believes we must protect the Earth and all its citizens, creating equitable, strong societies where everyone can flourish.
The pope believes that we have a moral duty to fight climate change, protect the Earth's ecosystems, and help the world's poorest communities flourish .
What happens next?

Pope Francis isn't a politician and many believe he uses this to his advantage as a way to highlight important global issues. As a prominent moral authority figure, he uses his influence to reach world leaders and to inspire people around the world – including Catholics and people of all faiths – to change the conversation around economics, poverty, and the environment for the better
Pope Francis' views on climate change should be taken seriously as the Paris climate negotiations begin on November 30. He's asking all people to take action right now so we can protect our planet and allow people from all walks of life to flourish into the future.
How can you take action?

Sign our petition and demand world leaders take action at the UN climate talks in Paris.
Join us on Twitter at @ClimateReality and use the hashtag #FollowFrancis to get involved online.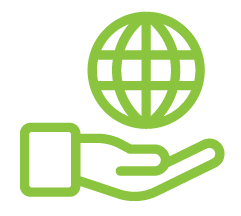 Before You Go
At Climate Reality, we work hard to create high-quality educational content like blogs, e-books, videos, and more to empower people all over the world to fight for climate solutions and stand together to drive the change we need. We are a nonprofit organization that believes there is hope in unity, and that together, we can build a safe, sustainable future.
But we can't do it without your help.
If you enjoyed what you've just read and would like to see more, please consider making a generous gift to support our ongoing work to fight climate denial and support solutions.