September 28, 2015 | 12:12 PM
Putting Your Money Where Your Event's Mouth Is
If you've ever worked at a large organization, attended a big school, or been active in your industry, you probably know a thing or two about large meetings and conferences. You may have walked away from these events feeling excited about new connections, energized by new information or lessons learned, and loaded up with a bag full of business cards or brochures.
While events differ, at any large conference there is one constant: attendees leave with event swag or promotional materials. Whether it's giveaways, binders, or reports, the swag offer all but guarantees that every conference attendee will walk away with more than they came with.
And, this stuff is usually pretty cool, right? Well, yes and no.
Although it's awesome to leave with goodies, when buying attendee swag it's easy for event producers to make bad decisions. To get them quickly and within budget, they often give away products that are made thousands of miles away and without consideration of their carbon footprint.
If you know The Climate Reality Project, then you know we approach things differently.
When planning our Climate Reality Leader trainings, we do our best to leave a positive social and environmental legacy. So, while there are items that each attendee will receive as part of the training process to help them spread the word in the weeks and months that follow, we work hard to give them products that are easy on the environment. To do this, we enforce a strict sustainability sourcing policy that goes something like this:
All products must be manufactured or made locally.
Items are for long-term use (no single-use disposables) and must be able to be composted or recycled at the end of their usage period.
Products must be made of recycled materials, with a preference for stuff made of more than 25-percent post consumer waste, 100-percent organic materials, or BPA-free substances.
"Sure, that works in theory," one might say. "But can you actually get everything you need for a conference under that policy?"
We can. See how we're sourcing some of our biggest buys for our upcoming Climate Reality Leader training in Miami:
Printed Materials

#CRinFlorida Philippine delegation #climatehope pic.twitter.com/5REY4GoGyf

— Climate Reality PH (@ClimateRealPH) September 28, 2015
While we try to keep our printing to a minimum, it's inevitable that we'll have to give our attendees some printed materials. So, when preparing these materials, we print with a local, Miami-based, green certified printer on 100-percent recycled content stock.
Binders

Every part of this conference is 100% sustainable. #CRinFlorida does it right pic.twitter.com/ikZB7fTVjS

— Ashley Hoye (@arhoye) September 28, 2015
We've got to have binders to put all those printed materials in, right? Our binders of choice are made from 100-percent recycled fibers and are Forest Stewardship Council-certified (you've probably seen the FSC tree logo around). We also think they look pretty cool, and hope our attendees reuse them after the conference.  They can be recycled as cardboard at the end of their usage period.
Name Badges

Everyone knows how vital name badges are at large events. When making 100 new connections a day, it's almost impossible to remember names without them!
Our name badge holders are made from compostable material, and our lanyards are made from 100-percent post-consumer recycled PET (made from recycled soda bottles or yogurt containers). Throughout the event, signs remind attendees to leave their badges and lanyards with us afterwards. We'll reuse these (only changing out name slips printed on 100-percent recycled paper) until the holders are ready to go in a compost pile and the lanyards in a recycling bin.
Food

A lunch for Climate Reality Leaders training; just vegetarian #CRinFlorida pic.twitter.com/5wxYA6a0Ah

— anu harkki (@biogreeneconomy) September 28, 2015
At Climate Reality, we're of the opinion that the best swag is the stuff that keeps you fueled throughout the day! 
Not only is the food we serve our attendees delicious, but it also has a small carbon footprint. The venue for our Miami event, the Hyatt Regency Miami, employs a sustainable food initiative called "Food, Thoughtfully Sourced, Carefully Served." Through this initiative, its chefs partner with Florida farmers, ranchers, and seafood providers to source fresh, local, and sustainable ingredients for their menus. Click here to learn more about their sustainable food policy.
The Good News

The good news: as the public increasingly realizes the importance of sustainability, there is a growing demand for eco-friendly products. Which means green swag is becoming easier and easier to find. We hope this means more events (not just ones in the environmental space) will offer their attendees sustainable takeaways. And if they don't, we know our amazing network of Climate Reality Leaders will be there to educate them about doing so in the future!
To learn more about our trainings and how you can attend, sign up here.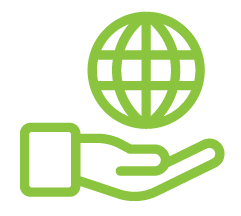 Before You Go
At Climate Reality, we work hard to create high-quality educational content like blogs, e-books, videos, and more to empower people all over the world to fight for climate solutions and stand together to drive the change we need. We are a nonprofit organization that believes there is hope in unity, and that together, we can build a safe, sustainable future.
But we can't do it without your help.
If you enjoyed what you've just read and would like to see more, please consider making a generous gift to support our ongoing work to fight climate denial and support solutions.