December 22, 2017 | 6:00 AM
Reasons for Hope: Local Action Is Taking Off
Even as the reality of the climate crisis becomes more apparent and urgent by the day, we choose hope. We know we can solve this crisis and we're optimistic about the future. And you should be too. 
Below, check out the latest installment in our four-blog "Reasons for Hope" series. (See parts one and two here.) Check back each Friday through the end of the year for more reasons we are confident the healthy, sustainable, and prosperous future we all deserve is within our grasp.
One of the biggest reasons for hope comes from people like you. Why? Because today, people all over the globe are taking their future into their own hands and joining the fight for climate solutions in their own back yards.
Read on to learn how local climate action is taking off everywhere.
1. US mayors are stepping up

On June 1, 2017, 385 American mayors from towns and cities both big and small pledged to "adopt, honor, and uphold the commitments to the goals enshrined in the Paris Agreement" through the Climate Mayors effort. Representing more than 68 million Americans, the initiative has mayors from across the country taking the lead to strengthen local efforts for reducing greenhouse gas emissions. The pledge has been signed by the leaders of some of the nation's largest cities, including Los Angeles, New York, Boston, Houston, Chicago, and Philadelphia.
2. Nearly 3,000 citizens became Climate Reality Leaders in 2017

The Climate Reality Leadership Corps takes great leaders and makes them exceptional, providing training in climate science, communications, and organizing in order to better tell the story of climate change and inspire their communities to take action. In 2017, Climate Reality held training events in Denver, Colorado; Greater Seattle, Washington; and Pittsburgh, Pennsylvania, to provide everyday activists with the tools to shape the conversation on climate in forums from family dinners to international summits and build a twenty-first century movement for solutions. With 1,349 new Climate Reality Leaders trained, our Pittsburgh training was our largest (out of 37 and counting!) yet.
3. Governments at all levels are taking a stand

All around the world, momentum is growing at state, local, and regional levels for implementing clean energy. In Canada, provincial governments are implementing climate action plans. States in India are vying with each other to develop the most solar power. Every nation in the world has signed on to the Paris Agreement. We could go on and on – and it's inspiring to see. 
4. Major cities are leading the fight on climate solutions

Where to begin? Copenhagen: aims to be carbon neutral by 2025. San Francisco: plans to achieve 100 percent renewable energy supply by 2020. Barcelona: requires 60 percent of hot water is generated with solar energy, saving enough energy each year to serve the hot water for 171,000 people. Los Angeles: plans to become coal-free by 2025. These four only scrape the surface – so many more are following in the footsteps of these trailblazers.
5. Communities are cleaning up transportation

As technology has advanced throughout human history, we've found better and better ways to get around. Just like people abandoned the horse and buggy, we're moving on to better, cleaner ways to get from point A to point B.
By gradually implementing policies like promoting bike- and car-sharing services (among many others) over the coming years, Paris hopes to achieve its goal of reducing transportation emissions by 60 percent by 2020. Last year, Taiyuan, in Northern China's Shanxi province, became one of the first cities in the world to replace its entire taxi fleet with electric vehicles. And many US cities are following suit – from Seattle's Drive Clean Initiative to Pittsburgh's planned fleet of hybrid police cruisers.
6. There are more ways than ever to make a big difference

How do you translate your desire for climate solutions into action that makes a real difference beyond changing your lightbulbs and recycling your soda cans? In the US, more than 600 utilities already offer customers the option to choose green power from renewables like wind and solar. The programs all basically work the same way: the utility either generates the power with clean sources or buys renewable energy certificates from other clean energy providers. By signing up wherever it is available, you help drive further demand for more and more renewables!
Around the world, "community solar" – where a community comes together to purchase or develop a solar farm whose electricity is then shared – is taking off, and at the same time the price of personal rooftop solar continues to drop (65 percent in the last five years alone). Incentives through governmental programs can make the choice even more affordable, and more and more providers are offering options to lease panels.  
From the outside, choosing clean energy for your home can seem intimidating, but spend five minutes online and you'll see that chances are, there's a path that's right for you.
Dr. Michael Mann On Extreme Weather: "We Predicted This Long Ago"
We've made great strides to solve the climate crisis all around the world, but there are clouds on the horizon that we cannot ignore. So our hard work must continue at this vital hour. Now more than ever, you can make a difference in our fight for solutions.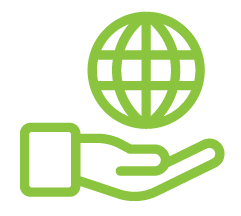 Before You Go
At Climate Reality, we work hard to create high-quality educational content like blogs, e-books, videos, and more to empower people all over the world to fight for climate solutions and stand together to drive the change we need. We are a nonprofit organization that believes there is hope in unity, and that together, we can build a safe, sustainable future.
But we can't do it without your help.
If you enjoyed what you've just read and would like to see more, please consider making a generous gift to support our ongoing work to fight climate denial and support solutions.