December 08, 2017 | 6:00 AM
Reasons for Hope: Progress in Technology
Even as the reality of the climate crisis becomes more apparent and urgent by the day, we choose hope. We know we can solve this crisis and we're optimistic about the future. And you should be too. 
Below, check out the first in our four-blog "Reasons for Hope" series. Check back each Friday through the end of the year for more reasons we are confident the healthy, sustainable, and prosperous future we all deserve is within our grasp.
Even as a few last holdouts like President Trump continue to sing the praises of dirty fossil fuels, technology trends and market forces stronger than any politician are moving the world toward a clean energy economy. And with the right policy incentives and government supports, the day we get there could be a lot closer than you think.
Check out seven ways innovations in clean technology are changing the game below.
1. Renewables are growing and getting cheaper

Due to declining costs and improvements in renewable technologies, solar and wind projects are being built in more places around the globe for cheaper than at any time in history.
Some studies estimate that 100 percent of the world's energy needs could be met with renewable sources by mid-century, as long as the right, supportive public policies are put in place to help implement them. That's where our leaders come in – and where you come in too.
2. Rooftop solar is becoming cost-competitive

In many places around the world, not only is solar power becoming more affordable than ever before, but it's actually becoming cost competitive with most utility rates for energy from fossil fuels.
When solar power costs the same (or less!) as purchasing power from the grid, it's called solar grid parity, and it's an important milestone in demonstrating the cost-effectiveness of harnessing the power of the sun. Even the US is moving forward and now well on the way to achieving the SunShot Initiative's 2020 goal of solar grid parity.
3. Energy storage keeps improving

How we create energy with renewables is important. How we store this energy – so we can use it when needed – is just as critical. That's because the sun doesn't shine 24 hours a day every day, nor is it always windy. The good news is this: we're seeing incredible progress in energy storage as batteries get better and demand keeps growing.
The numbers here are headed in the right direction. "Roughly 790 megawatts of [renewable] energy were stored last year and overall capacity is expected to hit 45 gigawatts in seven years," Bloomberg New Energy Finance reported in July 2017. (And in case you're not an engineer, that's a whole lot of energy.)
4. The electric grid is evolving

Just like energy storage is important for renewable energy to thrive, a smarter and more flexible electric grid that pulls power from multiple sources – rather than a single dominant plant that can be taken offline by extreme weather or other climate events –  is critical too. Smart grids improve energy efficiency, save money, and can enhance reliability – all great reasons to move away from fossil fuels and toward cleaner sources of energy. And since the grid is evolving and more renewables are being introduced, there is huge potential to revolutionize the energy market – for the benefit of the environment and economy.
5. The electric vehicle market is booming

Relatively new on the streets, global annual sales of electric vehicles – or EVs for short – more than doubled between 2014 and 2016. There are now more than 2 million EVs on the road around the world today. That's 2 million cars not puttering around on dirty fossil fuels, and these numbers are projected to rise. More and more vehicles are plugging in every day.
As just one excellent example among many, the city of Seattle, Washington, is spurring the mass electrification of many modes of transport, including passenger cars, trucks, transit, off-road vehicles, and maritime transportation through its Drive Clean Initiative, in order to help reach its ambitious goal of eliminating greenhouse gas emissions from transport by 2050.
6. Transportation is more efficient and public transit is growing

A 2016 survey by Consumer Reports found that the overwhelming majority of Americans (84 percent, in fact) believe automakers should keep making cars and trucks more and more fuel efficient. And automakers are listening – and not just in the US.
At the same time, use of public and mass transportation is growing rapidly. Technical improvements for new vehicles could avoid about 1.4 gigatons of CO2 annually by 2030, several countries are implementing eco-driving programs, and emissions mandates on cars in the US and EU are saving drivers at the pump in a big way. Meanwhile, huge investments in public transportation in countries like India and Colombia are helping contribute to energy conservation, land preservation, reduced air pollution, and so much more.
7. Wind energy is blowing away all expectations

These days, more and more of the energy powering every aspect of our lives comes from wind – whether we know it or not.
In the first six months of 2017, wind energy supplied 57 percent of Scotland's total energy needs, and the nation opened the world's first floating wind farm, expanding the possibility of installing turbines on stretches of ocean that were previously unavailable. When you travel by rail in the Netherlands, you're traveling by wind. Germany, the Netherlands, and Denmark are building a wind energy island that could provide clean energy to a whopping 80 million people. And in America, the first offshore wind farm opened off Rhode Island – saving 1 million gallons of diesel per year.
Critically, this shift is creating more than just electricity. In the US, analysts project the increasing number of wind jobs mean that wind turbine service technician will be the second fastest-growing occupation through 2024, behind solar PV installers.
These are just a few examples of why we're such big fans of wind energy, which by some estimates could supply worldwide electricity consumption more than 40 times over.
Ten Key Facts to Know About the Climate Crisis
Solving the climate crisis is within our grasp, but we need people like you to be the voice of reality. Because it's our planet in danger. Our future at stake. And we will have a voice.
No one else is going to do it for us. Wherever you are, whoever you are, there are many ways you can make a difference. But you have to act. Learn how by downloading our climate action kit Be the Voice of Reality: Twelve Ways to Make a Difference and get started today.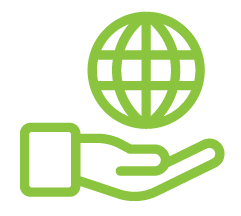 Before You Go
At Climate Reality, we work hard to create high-quality educational content like blogs, e-books, videos, and more to empower people all over the world to fight for climate solutions and stand together to drive the change we need. We are a nonprofit organization that believes there is hope in unity, and that together, we can build a safe, sustainable future.
But we can't do it without your help.
If you enjoyed what you've just read and would like to see more, please consider making a generous gift to support our ongoing work to fight climate denial and support solutions.