February 02, 2018 | 12:06 PM
Reasons for Hope: Renewables Give Alberta a Second Chance
Sometimes, the oil industry's trail of destruction extends far beyond the climate.
In the midst of the global oil price crash in 2015, residents of the Canadian province of Alberta watched in disbelief. Dirty tar sands oil makes up a hefty share of the region's economy, and in recent years, it's helped make the oil and gas sector the largest source of greenhouse gas emissions in Canada. However, they also provide a living for generations of families. So when the oil industry was forced to scale back dramatically, regular Albertans were hit hard.
During the oil price crash, an estimated 100,000 Canadian oil workers were laid off, at some points causing Alberta's unemployment rate to hover around 10 percent. Many of the workers had dedicated their entire lives to the oil industry and had no idea where to turn for work, or hope. "I talked to people on the phone and they were all freaking out, just watching their savings dwindle and not knowing what was going to happen," Jen Turner, director of the organization Iron + Earth, told Climate Reality.
>> Sign up for our email activist newsletter today  <<
As time passed, it became clear that the oil slump was more than just a temporary downturn – it was also an eye-opener for those who had relied on Big Polluters for so long. Many Canadians knew the oil industry was dirty and damaging to the environment, but now they were also seeing how destructive its volatility could be to the communities they called home. The renewable energy sector, on the other hand, was growing steadily, and could carry Albertans into a sustainable future and provide alternative energy sources for the community.
Lliam  Hildebrand, Matthew Linnitt, Kerry Oxford, Jen Turner, and Delia Warren had worked in or close to the oil industry and saw which way the wind was blowing. They saw that workers could easily transition into clean energy jobs — after all, many already had useful skills for the industry and required only some extra training. With this in mind, they founded Iron + Earth , an organization that organizes hands-on workshops training oil workers for new careers in renewables like solar.

The combination of the province making big moves to install more renewables and an abundance of qualified workers is bringing new energy into Alberta's once-ailing economy and charting a much more sustainable way forward.
"Solar became unrecognizably better compared to what it was not too long ago. The costs came down. It became more competitive. And there's absolutely no way that incorporating more forms of energy into our energy mix isn't going to be better for Canadians and the environment," Turner said.
Now the future is looking better – and cleaner – for the Canadian province. Renewable energy capacity is doubling roughly every two years and is expected to create thousands of new jobs. And there's even more progress: By 2030, the provincial government plans to source 30 percent of its electricity from renewable sources and even phase out another dirty fuel: coal. For Alberta, a province that was once synonymous with tar sands oil, that's a big deal – and for the rest of us, a big reason for hope.
Check out the video above to watch the full story of workers in Alberta. To learn more about renewable energy, download our Top Solar Myths e-book to understand the benefits of solar power and how it can help people, businesses, cities, and countries fight the climate crisis and move forward to a brighter future.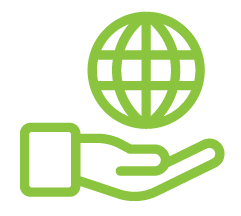 Before You Go
At Climate Reality, we work hard to create high-quality educational content like blogs, e-books, videos, and more to empower people all over the world to fight for climate solutions and stand together to drive the change we need. We are a nonprofit organization that believes there is hope in unity, and that together, we can build a safe, sustainable future.
But we can't do it without your help.
If you enjoyed what you've just read and would like to see more, please consider making a generous gift to support our ongoing work to fight climate denial and support solutions.