March 20, 2018 | 12:37 PM
A Rising Tide: How Green Events Drive Change
If you don't work in the event industry, you might not know it's changing in major ways – with sustainability efforts taking center stage.
The headline is that over the past several years, the industry rolled out the ISO 20121 Sustainable Event Management Standard and the APEX/ASTM Sustainable Event Standard, which spelled out what makes a green event and set the bar for planners and venues alike.
For us in the climate movement, this has two important effects. First, venues that want to earn the business of planet-conscious planners now have a clear set of benchmarks to hit, creating financial incentives for an industry-wide shift toward sustainability.
Second, planet-conscious planners have a clear set of criteria to use not only in deciding who gets their business, but also in every step of designing and executing events that minimize impacts and leave positive and lasting legacies. It's one part using your dollars to advance your values and one part turning values into the forks, food choices, and other factors that express them.
At Climate Reality, we use these standards to ensure that our green initiatives and our overall event management systems are in line with industry best practices no matter where we hold events, from Manila to Johannesburg to New Delhi. And with a Climate Reality Leadership Corps training coming up in Mexico City, we had another opportunity to put our money where our mouth is and put these standards into practice to make a truly green event a reality.

Supporting Other Industries' Sustainability Standards

One of the things we love about the ISO 20121 and APEX/ASTM standards is how they support sustainability standards across multiple industries. For instance, when completing a venue search the event planning team looks for venues that hold green building certifications like LEED. When printing our materials, we always identify local printers that maintain green printer certifications, like the Forest Stewardship Council (FSC) Chain-of-Custody certification. And, when purchasing cleaning products, we source items that earn certifications like Green Seal.
By supporting sustainability standards across a variety of industries, we help demonstrate the necessity of industry-wide green associations and certification programs. We also support the companies that take the practical steps to earn these valuable certifications, proving to their competitors that caring about the planet pays off.
 

Promoting Green Venues

Choosing a venue for the event is probably the planning team's most important decision. Choose the right place and (almost) everything else follows. Following green event standards, some of the most important criteria we consider are:
Is the building LEED certified?
Does it have an effective waste diversion system separating recycling, compost, and landfill items?
Does it have sustainable procurement policies?
How does this work in practice? We chose the Hilton Mexico City Reforma for our upcoming Climate Leader training in Mexico City based on its:
Comprehensive waste diversion system;
Policy of purchasing seasonal and local ingredients for its kitchen;
Leadership in food and product donation programs; and
Willingness to go the extra mile to decrease the venue's environmental footprint during our event – including working with us to implement its first-ever compost pilot program.
The takeaway is this. Booking events is a competitive business. There are lots of venues that want to host your events. By choosing those that go green – and rewarding them with your business – you're sending a message to the industry as a whole. Plus, you're encouraging those not with the sustainability program to get with it or risk losing more and more business. That's how change happens.
Driving Demand for Sustainable Products

At The Climate Reality Project, we like to think of ourselves as minimalists – we don't like excess or unnecessary items. Yet, there are some unavoidable purchases we must make to produce our Climate Reality Leader trainings. Luckily, the green event standards' procurement guidelines help us minimize the environmental impact of event-related purchasing.
An important step is developing a sustainable procurement policy that requires our planning team to find eco alternatives to standard event items. For example, the lanyards used for attendee name badges are actually made from 100 percent recycled soda bottles (recycled PET plastic).
The standards' sustainable purchasing requirements don't just lower the environmental impact of events like ours, though. They also drive demand for more green products. Each time event producers seek out eco products, they demonstrate consumer demand for sustainable alternatives to traditional items and incentivize suppliers to green their inventories.
A Changing Industry

Our favorite part about green event standards like ISO 20121 and APEX/ASTM? Following them is quickly becoming the norm for the events industry! Some of the biggest and most influential events in the world are incorporating sustainable event management standards into their operations. A couple notable examples include:
The Olympics – ISO 20121 was first popularized at the 2012 London Olympics. The 2016 Summer Olympics in Rio de Janeiro and the 2018 Winter Olympics in Pyeongchang both received ISO 20121 certification.
The World Economic Forum's Annual Meeting in Davos – This prestigious meeting for the world's leaders in politics, business, and other sectors earned ISO 20121 certification in 2018.
World Sailing – The governing body for the sport of sailing became the first international sports federation to earn ISO 20121 certification in 2018.
How Can You Support the Standards?

Let's keep momentum going for sustainable event standards! Show your support for the standards and for green event management. When you see an example of a green event practice, share it with the #greenevent tag!
Want to learn more about event activism and green event planning? Check out posts about our event sustainability strategy, our green venue selection process, how we build our green teams, and how our attendees can go green.
You can also apply to attend our next Climate Reality Leadership Corps training and see a #greenevent in action! Join former US Vice President Al Gore and other incredible climate influencers at our next Climate Reality Leaderships Corps training.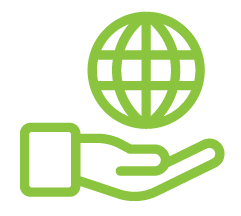 Before You Go
At Climate Reality, we work hard to create high-quality educational content like blogs, e-books, videos, and more to empower people all over the world to fight for climate solutions and stand together to drive the change we need. We are a nonprofit organization that believes there is hope in unity, and that together, we can build a safe, sustainable future.
But we can't do it without your help.
If you enjoyed what you've just read and would like to see more, please consider making a generous gift to support our ongoing work to fight climate denial and support solutions.