November 30, 2018 | 10:08 AM
See Who's Joining Us for 24 Hours of Reality
On December 3-4, 24 Hours of Reality: Protect Our Planet, Protect Ourselves will visit countries around the world to hear from policymakers, thought leaders, and citizen activists on the front lines of climate change to discover how this crisis is impacting health worldwide – and how together we can stop it.
We're excited to welcome back some familiar faces – Calum Worthy, Vanessa Hauc, Jamil Smith, Jonathan Scott, and Sam Champion to name just a few. But many more exciting guests also will join us for our annual 24-hour live global event!
Read on for a sample of the world leaders, musicians, activists, and celebrities we can't wait to hear from this December 3-4.
CLAIRE DANES

We've been following the career of four-time Golden Globe and three-time Emmy winner Claire Danes since she first took the world by storm on the beloved drama series My So-Called Life. In the nearly 25 years since, she's built one of the most respected careers in entertainment, delivering stellar performances in hit films like Romeo + Juliet, The Hours, and Stardust and on TV in Homeland and Temple Grandin.
The star is also well-known for using her celebrity to draw attention to causes she feels deeply about, including the fight for equal rights all over the world and supporting public schools. Afghan Hands, a nonprofit that works to empower women in Afghanistan to gain independence, education, and livable wages, has called her their "longest and most loyal supporter," and she's worked with DonorsChoose.org to encourage assistance of public school teachers with ambitious learning projects.
She joins 24 Hours of Reality this year to stand up for yet another vital cause: The fight for a better, more sustainable tomorrow.
President Carlos Alvarado Quesada

Imagine an entire country powered by 100-percent renewable energy. For Costa Rica, that's nearly a reality. The Central American nation may be small, but it has big ambitions: According to Vox, "Costa Rica is moving toward carbon neutrality faster than any other country in the world."
It's an effort led by Carlos Alvarado Quesada, who assumed the office of president in May of this year and in his inauguration speech promptly committed his nation to urgent, aggressive climate action, saying, "Decarbonization is the great task of our generation and Costa Rica must be one of the first countries in the world to accomplish it, if not the first."
President Alvarado has published three novels, and previously served as Costa Rica's minister of labor and social security.
We're always excited to hear from the very world leaders and global policymakers taking climate action at the national, regional, and city levels. In addition to President Alvardo, this year's 24 Hours of Reality broadcast will include Fijian Prime Minister Frank Bainimarama; Dr. Eckart Würzner, mayor of Heidelberg, Germany; Claudia Sheinbaum, mayor-elect of Mexico City; First Minister of Scotland Nicola Sturgeon; and more.
Joseph Gordon-Levitt

At just 37 years old, two-time Golden Globe nominee Joseph Gordon-Levitt is a well-established acting veteran. He got his start as a child actor, best known for his role in the Emmy-winning Third Rock from the Sun, and soon grew into a teen dream in hit films like 10 Things I Hate About You and Halloween H20.
But it's been his adult career that's truly proven his mettle as one of the best performers of his generation. Beginning in the mid-aughts with acclaimed indies like Mysterious Skin and Brick, Gordon-Levitt showcased a chameleon-like quality that would help him forge bonds with some of the best directors of the twenty-first century, from Christopher Nolan (Inception, The Dark Knight Rises) and Rian Johnson (Brick, Looper) to Steven Spielberg (Lincoln) and Oliver Stone (Snowden). He earned widespread acclaim as a writer-director himself with the feature Don Jon.
Gordon-Levitt is also an outspoken climate advocate, and even appeared on our 2016 broadcast of 24 Hours of Reality.
Claire Danes and Joseph Gordon-Levitt are two of the many celebrity climate activists who will be joining us for this year's show. Oscar nominee and six-time Emmy winner Bryan Cranston (Breaking Bad), Jaden Smith, Silicon Valley stars Kumail Nanjiani and Thomas Middleditch, Claire Danes, Mandy Patinkin, Bill Nye, and legendary megastar Harrison Ford are just a few of the many other stars you can expect to see during 24 Hours of Reality: Protect Our Planet, Protect Ourselves.
Gina McCarthy

Gina McCarthy is the former administrator of the US Environmental Protection Agency (EPA), and current director for the Center for Health and the Global Environment at Harvard University. She's been a leading advocate for commonsense strategies to protect public health and the environment for more than 30 years.
She joined EPA in 2009 as assistant administrator for the Office of Air and Radiation, and was elevated to the role of agency administrator by then-President Barack Obama in 2013.
"In 2015, McCarthy signed the Clean Power Plan, which set the first-ever national standards for reducing carbon emissions from existing power plants, underscoring the country's commitment to domestic climate action and spurring international efforts that helped secure the Paris Climate Agreement," Harvard University writes.
Former Administrator McCarthy previously served as the commissioner of the Connecticut Department of Environmental Protection, and has worked across the aisle at both the state and local levels on critical environmental issues and helped coordinate policies on economic growth, energy, transportation and the environment.
Gina McCarthy will be key to telling the story of the climate crisis' impact on public health. Others joining her to add invaluable insight include Catherine Flowers, director of environmental justice and civic engagement, Center for Earth Ethics; Eriel Tchekwie Deranger, executive director of Indigenous Climate Action; Dr. Poonam Khetrapal Singh, regional director for South-East Asia, World Health Organization; Dr. K. Srinath Reddy, president of Public Health Foundation of India; Dr. Maria Neira, director of the Department of Public Health, Environmental, and Social Determinants of Health at the World Health Organization; and many more.
5 Seconds of Summer

Bands don't get much hotter than 5 Seconds of Summer. Earlier this year, the Australian pop-rockers launched their third album, Youngblood, at the peak of the Billboard 200 album chart, "granting the band [a place in] history."
The band became the first Australian act with three No. 1 albums on the all-genre chart, and the album's title track has gone on to become an inescapable radio hit and the band's first Billboard Hot 100 top 10 single. In mid-October, 5 Seconds of Summer concluded the North American leg of the hit Meet You There tour.
5 Seconds of Summer – Luke Hemmings, Michael Clifford, Ashton Irwin, and Calum Hood – rose to international fame while touring with One Direction in 2013, and have headlined three world tours. The band's self-titled full-length 2014 debut album has been certified platinum in four countries and gold in 10 others.
Alongside 5 Seconds of Summer, this year's 24 Hours of Reality is set to include a long and genre-diverse list of incredible musicians. Get excited for rock legends like Sting, the Foo Fighters, and David Crosby, Swedish dance-pop goddess Robyn, Grammy-nominated folk rockers The Lumineers, English singer-songwriter Kate Nash, multiplatinum singer and DJ Moby, and many, many more. 
 

The broadcast of 24 Hours of Reality: Protect Our Planet, Protect Ourselves will stream live at 24hoursofreality.org, beginning at 6 PM PT on December 3, and will be presented locally by television partners around the world.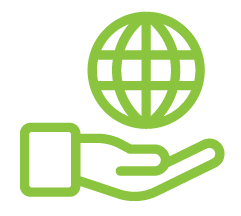 Before You Go
At Climate Reality, we work hard to create high-quality educational content like blogs, e-books, videos, and more to empower people all over the world to fight for climate solutions and stand together to drive the change we need. We are a nonprofit organization that believes there is hope in unity, and that together, we can build a safe, sustainable future.
But we can't do it without your help.
If you enjoyed what you've just read and would like to see more, please consider making a generous gift to support our ongoing work to fight climate denial and support solutions.