December 29, 2014 | 9:00 AM
Seven Reasons Not to Give Up on Climate Action
After years of inaction and indecision, it's understandable if you're pessimistic about the climate. With every passing day, the effects of climate change seem to become more visible and pronounced: more intense or frequent wildfires, droughts, floods, heat waves, super-typhoons, wild temperature swings. Together it can all sound more like the plot of a Hollywood disaster flick than the Sundance film that has you buzzing as you leave the theater.
But here's the silver lining: even in those disaster films – ok, most of them – things turn around because at the end of the day, the characters drop all their typecast differences and figure out what's important. They get together and launch into the kind of creative problem solving that would amaze even MacGyver, taking on their shared challenge, renewing their cities, rebuilding the world as a better place along the way. So if the mainstream media coverage has you down about the latest climate drama or if things aren't as perfect and wonderful as you want them to be, it's time to watch the story happening right before our eyes.
Spoiler alert: we are making progress – more so in 2014 than ever before. 
Here's why you can keep up hope for real progress in 2015:
1. First of all, we know what the problem is, and we know how to solve it.


Tweet
We know more about climate change than ever before. And the solution is simple: we need to reduce the amount of carbon pollution going into the atmosphere. 
2. Public opinion is increasingly behind clean energy and climate action.


Tweet
With so much going on in the world, climate change used to be last on people's list of things to worry about. Not any more – around the world, people are realizing that clean energy is great for the planet, affordable, and creates new jobs to boot. The question now is, "Why wouldn't you support it?" 
3. The cost of clean energy is becoming competitive with dirty energy.


Tweet
The cost of rooftop solar is now competitive with utility rates in many countries. What does that mean? Well, before, the fossil fuel industry knew we were hooked on their low prices and had no incentive to change what they were doing. Now, we have a choice when it comes to where we get our energy – and more and more people are making the climate-safe choice. 
4. There's more than enough clean energy to meet the world's demand for electricity. We just need to harness it. 


Tweet
The technology is here, the sun is shining, and the wind is blowing – now it's just a matter of building up clean energy production so that we can get off dirty fossil fuels.
5. Renewable energy is spurring job growth around the world.


Tweet
Renewable energy is boosting the economy, creating 5 million jobs worldwide. By 2030, that number is expected to increase to nearly 17 million. Secure, clean energy plus good-paying jobs? Yes, please! 
6. It's not too hard – we've done it before. 


Tweet
From rockets that land on comets, to curing deadly diseases, to accessing the entirety of human knowledge from a device in the palm of your hand, we've made the impossible dream an everyday achievement. We've faced challenges before, sure. But the amazing thing is that human beings are endlessly creative and will persist to prevail over this challenge. 
7. It's up to us. Will you help? 


Tweet
In short, we have #ClimateHope because around the world, every day, there are people just like you who care about this issue and are working hard to do something about it. Thanks to people like you, the world really is a better place.  
Do you have hope?

With your help, we can build on this success and write the next chapter in an incredible story. Make a donation to The Climate Reality Project today to help us train messengers to organize communities in over 100 nations, inspire activists online and in the streets, and build unstoppable momentum for a global commitment to stop climate change in 2015. 
Did you find a reason to be hopeful for 2014? Share your new #ClimateHope with friends by clicking the social media buttons on the right side of this article.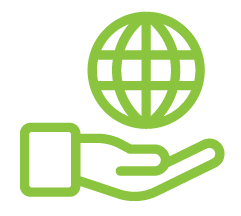 Before You Go
At Climate Reality, we work hard to create high-quality educational content like blogs, e-books, videos, and more to empower people all over the world to fight for climate solutions and stand together to drive the change we need. We are a nonprofit organization that believes there is hope in unity, and that together, we can build a safe, sustainable future.
But we can't do it without your help.
If you enjoyed what you've just read and would like to see more, please consider making a generous gift to support our ongoing work to fight climate denial and support solutions.