June 18, 2015 | 6:00 AM
Seven Top Innovators, Inventors, and Entrepreneurs To Watch In Clean Tech
Here's another story idea from the wonderful Climate Reality Project that I'm running with. But there's a big caveat. Battery storage is one of the hottest segments of clean tech today, and there are hundreds of great people working on potential breakthroughs or important incremental improvements in this realm. Picking one or two of them seemed like it would be unfair (and practically impossible for me), so I decided to essentially ignore that sector of clean tech. If you want to learn about some of the big innovators, inventors, and entrepreneurs in this space, I recommend checking out my piece on 43 battery storage companies to watch. Explore any of those companies in much depth and you'll find a wealth of wonderful clean tech leaders.
So, with that caveat out of the way, on to 14 top electric vehicle and solar energy innovators, inventors, and entrepreneurs who I think you should know and keep an eye on.
I'm not highlighting Ian simply because Chris and I recently got to interview him on Cleantech Talk. Ian deserves to be on this list. He was one of the key engineers who founded Tesla Motors. (Heard of that company?) But rather than stay there, he jumped ship in order to start his own electric truck company. If you think Tesla has great revenue-generation potential and will help a great deal to fight climate change and cut pollution, then you really need to learn more about Wrightspeed and how it compares. I'm sure Ian is not done innovating, inventing, and driving positive change, and he also hinted at some big developments coming out of Wrightspeed someday (presumably soon). Keep an eye on Ian and the wonderful work he's doing.
Ryan Popple, John Sleconich, & Dale Hill

Sticking with the theme of large electric vehicles, Proterra is a company to watch. And as soon as it hits the stock market, I intend to pour some money into it. The electric bus manufacturer is off to a pioneering start in this important market, and it's a market I expect to explode in the coming decade.
Ryan Popple is Proterra's CEO and president. Previously, he was a partner at the venture capital firm Kleiner Perkins Caufield Byers and senior director of finance at Tesla Motors in its early days. Needless to say, keep an eye on this man.
John Sleconich doesn't have a long history in the world of startups, but he's in this space now as the vice president of engineering, after a humble 25 years at "two of the world's foremost aerospace companies."
While not appearing on Proterra's Leadership Team page, Dale Hill founded the company way back in 2004. Talk about vision! He also founded TransTeq, "a company that designed and manufactured the EcoMark Alternative Fueled Hybrid-Electric Vehicle for the Denver Regional Transportation District's 16th St. Mall." And he's described as a career entrepreneur and is an engineer by training. I wonder what he's dreaming up right now….
You can't talk about electric buses without talking about Wang Chuanfu. Holding the title of richest Chinese citizen for a time, Wang came from a farming family to build the clean tech behemoth known as BYD. As much as Proterra would like it to be otherwise, BYD has dominated the nascent electric bus market. It's had successful pilots in Europe, North America, the Middle East, South America, and Asia; and it continues to roll out record-breaking electric buses. Reportedly, BYD's electric buses compete with conventional diesel buses on cost. Furthermore, it benefits from being based in the world's largest economy, and one where the government is heavily prioritizing electric vehicles. BYD has sold thousands of electric buses to Chinese cities, and it also dominates China's fast-growing electric car market (also see here and here).
BYD didn't start in electric vehicles -- it started in the rechargeable battery market (think mobile phone batteries) thanks to Wang's useful battery inventions. It expanded into the automobile sector, before deciding to quickly transition to 100-percent electric vehicles (a transition still in progress), and is also in the stationary energy storage, solar, and energy efficiency markets. BYD is a top clean tech company to watch, and Wang is the brilliant man behind it all (and the man who apparently convinced Warren Buffett to become BYD's top investor). By the way, BYD and ABB intend to together become the world's number-one battery supplier – and are seemingly in a tight race with Tesla and Panasonic.
I've seen the name a number of times, but Sunil Paul's clean tech leadership really came to my attention this year (see this panel discussion). Sunil patented the idea of ordering a car on your phone back in 2002, seven years before Uber was founded. Starting Sidecar in 2012 with Jahan Khanna, Sunil has led the startup into the delivery space as well as serving as its CEO. Prior to Sidecar, Sunil was involved carsharing and a few Internet-based startups. Sunil also coined the term "cleanweb." As a "veteran entrepreneur" with an engineering degree, Sunil is someone I think we should all be watching.
Jahan Khanna is Sidecar's CTO and other cofounder. "As a University of Michigan student, Jahan was lead programmer on the 'Magic Bus Project', a transit application that told passengers how long they'd wait for the next bus," is how the Sidecar website puts it. "This school project became Shepherd Intelligent Systems, a transportation software company for public transit, taxi, limo, school and shuttle bus fleets that was later adopted by universities nationwide." The Magic Bus Project + Sidecar = not a bad career start, wouldn't you say?
Want to stay in the loop with developments in clean tech transit and other climate solutions? Sign up for our email list and we'll keep you updated with what's happening and what you can do to help drive a global shift to renewables.
Statements above represent the opinion of the contributor and not The Climate Reality Project and are for informational purposes only. Nothing in this post is intended as investment advice. Readers seeking investment advice should consult with a duly licensed professional.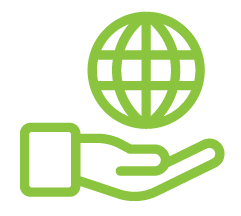 Before You Go
At Climate Reality, we work hard to create high-quality educational content like blogs, e-books, videos, and more to empower people all over the world to fight for climate solutions and stand together to drive the change we need. We are a nonprofit organization that believes there is hope in unity, and that together, we can build a safe, sustainable future.
But we can't do it without your help.
If you enjoyed what you've just read and would like to see more, please consider making a generous gift to support our ongoing work to fight climate denial and support solutions.