February 09, 2016 | 4:00 PM
Show the Love for the Earth
This Valentine's Day, we're declaring our love for the most treasured thing in our lives – the Earth.
Why? Because climate change affects the entire world. And if enough of us show we care, we can protect the life we love from this global crisis.
That's why we've partnered with The Climate Coalition to #ShowtheLove – and we're asking you to join us. Through the #ShowtheLove campaign, we're letting world leaders know that people from all walks of life care deeply about ending the climate crisis. We're also reminding them of what we stand to lose if they don't live up to the promises they made in the Paris Agreement to cut emissions and halt climate change.
Ready to #ShowtheLove? Here are a few ways you can get involved:
1. Watch this short film I Wish for You… Written by award-winning author Michael Morpurgo, the film tells the story of a grandfather's letter to his granddaughter about the world he cherishes – a world threatened by climate change.
I wish for you...

Michael Morpurgo's wish for the world is worth sharing. Jeremy Irons agrees. Do you? Watch and share to #showthelove for all we could lose to climate change

Posted by The Climate Coalition on Wednesday, February 3, 2016
2. Share a green heart graphic. Help us build awareness about climate change on social media by sharing the graphic below on Facebook or Twitter (make sure to include #ShowtheLove).
3. Join us for a Twitter chat on Thursday, February 11 at 11 AM ET / 4 PM GMT where we'll talk about the practical, clean energy solutions to climate change. A special guest will join us as we discuss this good news. Click here to RSVP.
Ready to learn more about how you can help our planet? Sign up for updates from The Climate Reality Project to find out more about what's changing in our climate and ways to get involved.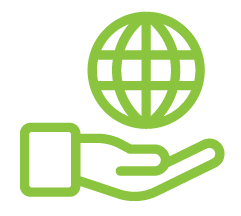 Before You Go
At Climate Reality, we work hard to create high-quality educational content like blogs, e-books, videos, and more to empower people all over the world to fight for climate solutions and stand together to drive the change we need. We are a nonprofit organization that believes there is hope in unity, and that together, we can build a safe, sustainable future.
But we can't do it without your help.
If you enjoyed what you've just read and would like to see more, please consider making a generous gift to support our ongoing work to fight climate denial and support solutions.