November 20, 2017 | 6:00 AM
Six Thanksgiving Foods Affected by Climate Change
This week, Americans will consume, on average, about 1.5 pounds of turkey and 4,500 calories per person. (Which – fun fact – would take a 150-pound person running 6 mph seven hours to burn off.) To most American families, Thanksgiving is a time to celebrate and a time to eat together.
But just what we put on our plates on Thanksgiving is changing, thanks to climate change. So how will our Thanksgiving foods continue to change? Much of it depends on how quickly and seriously we act to cut carbon pollution today. Here's why.
TURKEYS

Let's start with the centerpiece of Thanksgiving dinner. Turkeys face a worrisome future as heat waves and hotter temperatures become increasingly common. In one case, studies on broiler hens found that "a poultry house put under a future climate change scenario exceeded critical temperature on 30 percent more occasions despite a 10 percent increase in ventilation."  And when the temps rise, turkeys don't grow as big and could even die from heat exhaustion or heat stroke.
POTATOES AND SWEET POTATOES 

As temperatures in potato-growing regions rise and rains become less reliable, farmers are trying to adapt to keep their harvests safe. But unless they can develop a heat-resistant variety , potato farmers will have a difficult time growing their crops and face tough choices about moving their farms.
There's also a nutritional element in how climate change affects potatoes and other plants. Studies show that rising CO2 emissions alter the makeup of most plants, altering their nutritional value. Because of these genetic changes, foods like potatoes, pumpkins, and other crops will contain more starch and sugar and fewer nutritional minerals. Which is not such a sweet scenario.
CRANBERRIES

The cranberry is no fan of extreme weather. Frosts and floods can cut yields, and heat waves can cause an unpleasant rot. With temperatures on the rise – 2015 is on track to be the hottest year on record – cranberry-growers are facing an uncertain future. We've already seen what could happen back in 2012, when an early spring and extreme heat meant cranberry production in Massachusetts dropped 23 million pounds in one year alone, enough to leave a bitter taste in the mouth.
BREAD

Not everyone wants to go gluten-free these days, especially when there's stuffing on the dinner table. Scientists project that warming temperatures mean yields of staple crops like wheat, corn, and rice will decline. Which is bad news for food-insecure nations that depend on them. More troubling still is that some hotter areas like Sub-Saharan Africa may have trouble growing these crops at all as production shifts to cooler climates.
PUMPKIN Pie

Your typical pumpkin thrives with ample water and cool autumn temperatures. But with record droughts in California, one of the United States' biggest pumpkin producers, farmers struggled to get their harvest ready for the season. On the other hand, too much water (in the form of floods) also spells bad news for pumpkins, as we saw in the 2009 shortage, squashing hopes for pumpkin pies. That year, Nestle, the leading manufacturer of canned pumpkin, even told customers there wouldn't be enough canned pumpkin for Thanksgiving.
WINE

Wine is made from grapes, which are part of a plant group known as perennials. Perennials are planted once and last for years, yielding crops each harvest cycle, which makes them especially vulnerable to climate change.
When extreme weather occurs – which is happening more intensely and frequently in many parts of the world – you can't simply relocate the grapes. Because they're planted a single time with the intention of lasting many years, they're essentially  stuck wherever they're planted. Grapes are also sensitive to temperature changes. When temperatures get too hot, the fruit starts to break down, spoiling the entire crop.
With the climate changing, there's more to be concerned about this Thanksgiving than a visit with the in-laws – but the thing is, we can do something about it today. We don't have to accept a future where our favorite foods are just too expensive or too hard to grow anymore.

HERE'S WHAT YOU CAN DO: JOIN US and Be the Voice of Reality

The climate crisis affects all of us, no matter where we live, how old we are, or our income. That's why each year, 24 Hours of Reality brings together people from all walks of life to talk honestly about the reality of the climate crisis and how we can take action to solve it. 
On December 4 - 5, 2017, 24 Hours of Reality: Be the Voice of Reality will feature celebrated artists, policymakers, scientists, and thought leaders, and we need you to add your voice to the global chorus calling for action. You won't want to miss this inspiring event, so sign up today to receive reminders of how and when to tune in.
Header image: © 2012 Tatyana A./Flickr cc by nc nd 2.0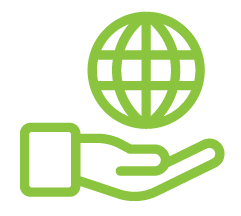 Before You Go
At Climate Reality, we work hard to create high-quality educational content like blogs, e-books, videos, and more to empower people all over the world to fight for climate solutions and stand together to drive the change we need. We are a nonprofit organization that believes there is hope in unity, and that together, we can build a safe, sustainable future.
But we can't do it without your help.
If you enjoyed what you've just read and would like to see more, please consider making a generous gift to support our ongoing work to fight climate denial and support solutions.